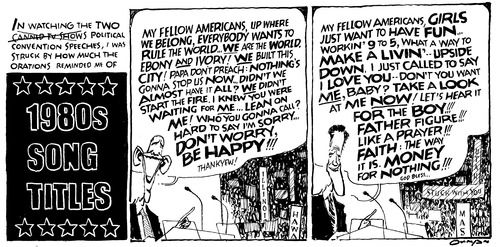 (Jack Ohman via GoComics.com. Click over to get a larger version & don't miss the background banners!)
__
Paul Constant at Seattle's Stranger may be even better on the Charlotte convention than his excellent RNC coverage:
… I have never been a fan of Bill Clinton. I resented his baby-boomer smugness, the calculating way with which he inveigled the Democratic Party into giving up some core values for a few fleeting moments of centrist popularity—particularly, giving up its devotion to the citizens who could not, for reasons of mental or physical competence, take care of themselves. And I detested the way he tried to tear Barack Obama down, to force him into waiting his turn in line for the presidency back in 2008. But I had never seen Clinton speak before in person, and so I could never understand what makes him so appealing.

Clinton has that one-in-a-million mixture of crippling neediness and unadulterated, (almost literally) unimpeachable self-confidence that generally breeds rock stars, or the kind of writers whose books teenagers keep lovingly rolled up in their back pockets. He desperately needs the love and affection of every single person in the Time Warner Cable Arena (some 26,000 people, with many thousands more turned away at the door) and he has the gall to believe that he deserves that love and affection, too. You can't deny that kind of pulsing spiritual vacancy, that starving need for love, in a person. You want to help fill his need for attention, and you're flattered by his attention in return… He seduced a small army of people all at once with facts and figures and his masterful ad-libs. I still think his presidency was too complacent and that he squandered some opportunities that could have at least partially prevented the mess in which we find ourselves now, but I cannot deny—nobody can deny—that Bill Clinton possesses a rare genius…

Something that I often forget about Obama, though, is that he has another, special kind of genius. He always knows how much energy he needs to expend, and he doesn't expend any more than that amount. Obama never plays an ace when a two will do. During the 2008 debates, Obama surely could have blown John McCain away with a sharp comment or a figure that would have torn McCain's argument out from under him. But the problem with those showy moments is that they bear a certain amount of risk; every dive for the jugular can result in a self-inflicting injury…. Instead, Obama just ran out the clock on McCain, being reasonable and common-sensical, to show Americans that he wasn't a freak or a socialist or a monster. By being patient, and by expending just enough energy, he won the whole contest, even though he didn't give the commentariat the blood for which they were bellowing.

Obama's speech, then, was like that. It contained promises and mentions of important liberal causes like global warming and marriage equality, but it didn't reframe the conversation or try to wriggle out of charges of class war by positioning himself as a moderate. This is presumably because Obama and his team have done the calculations, and they've realized that they can win on this conversation, that Americans don't believe that self-interest should be the prime motivation of the country, that fairness and cooperation do have their place in the United States that they want to live in…
If you haven't time for the whole thing, at least read the last four paragraphs following the final dropped cap, concerning Gabby Giffords: She was there for just another dumb press event that congresswomen have to show up for every day if they expect to keep their jobs, and a mentally unhinged man who slipped through the cracks tried to force his will upon her, to make her dead so that he could have something he could call his own. He took something precious from her that will never be replaced, but he failed…
Seriously, click over, and get yourself a pretty fine headstart on yet another Monday morning.