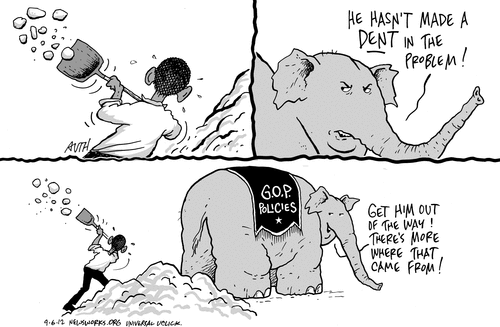 (Tony Auth via GoComics.com)
__
The Republicans are complaining that, as Jon Chait put it in NYMag, "pollsters and the news are conspiring to re-elect President Obama". Professor Krugman has a theory about why (leaving aside the effect of huffing epistemic-closure fumes) the Greedy Old Pols might be spinning so busily:
Convention season has been brutal for the Romney campaign. Romney has trailed Obama, not by a lot but significantly, for months; the RNC was supposed to bounce him into the lead. Instead, Romney didn't get a bounce — but Obama did. It's far from over, but at this point Obama is the clear favorite to win.

Those are the facts. So why is the Romney campaign spinning furiously in an attempt to deny them? Well, I have a theory; it's obvious, but I haven't seen it elsewhere. It's about the money…

Bear in mind that Romney's one big advantage is a huge pile of cash. Much of this pile comes from committed right-wing zealots, like the Koch brothers. But a good chunk comes from business interests, Wall Street in particular, that historically try to buy influence with whoever they think will win. They like Romney better than Obama — he doesn't look at them funny — but they've placed a very big bet on the Republicans this time compared with previous occasions, and they have to be feeling nervous.

If they come to the conclusion that they invested in a loser, they will try to cover their position by rushing a lot of cash to Obama in the final weeks of the campaign. And that will blunt the one big advantage Romney still has.

So the Romney campaign has to do all it can to obscure and deny reality, lest perceptions that their candidate is a lemon turn into a self-fulfilling prophecy.
I guess it's time to start tracking Maureen Dowd columns and Politico stories about Wall Street machers who have been seized with a road-to-Damascus conversion on the benefits of Keynesian economics…
***********
Apart from following the circus parade with a broom and a dungcart, what's on the agenda for today?