As I sit here wide awake, openly hostile at the world because I slept most of yesterday, most of today, and am only now starting to feel a little bit better despite the fact that I have taken enough Mucinex-D and Chlor-Trimatron to kill most mortals, it occurred to me that not everyone is as angry and pissed off as I am. I just loathe being sick and it puts me in a funk. I hate even more being put off my sleep schedule and sitting here wanting to be asleep, but wide awake and miserable instead. As such, a peace offering: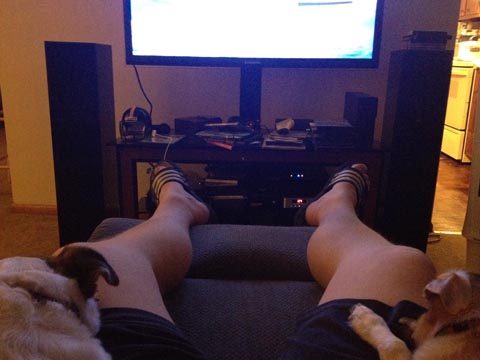 I'm sorry for being such a dick lately. If you haven't noticed a difference, well, then, because,shut up, that's why…
No matter how pissed off I get, I still have the girls and Tunch to keep me grounded. I can not believe that next spring I will have had Tunch for 11 years, Lily for four, and a few months later will be the third anniversary of Rosie. Simultaneously it feels longer and sooner- I feel like I have had them all forever, but at the same time, it feels like just yesterday.
At any rate, I am sorry for being so cranky. I think I am finally coming out of this cold. I've spent the last five days chugging coconut water and diet ginger ale (not together), eating cup of noodles, and just generally being pissed off when I am not sleeping.
BTW- Am I the only one who buys cases of vita-coco every time I hit Costco? Just the best stuff on earth. I usually chug two big glasses of water every morning when I wake up just to get the whole body running, but these days, I chug some Brita water and then an ice cold vita coco. It's better than coffee.