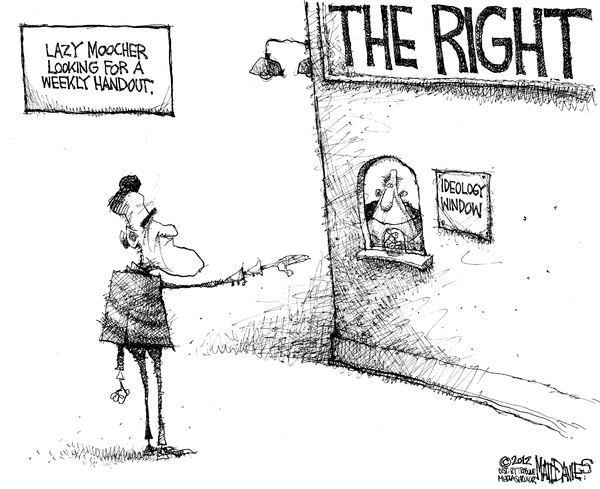 (Matt Davies via GoComics.com)
__
Professor Krugman spots another Romney con:
I've coined a few successful turns of phrase over the years, but none, I think, as successful as the confidence fairy — a term I used to refer to the belief that things like austerity in the face of depression would actually be expansionary, because of … CONFIDENCE…

As O'Brien notes, here's how Romney described his economic strategy:

If it looks like I'm going to win, the markets will be happy. If it looks like the president's going to win, the markets should not be terribly happy. It depends of course which markets you're talking about, which types of commodities and so forth, but my own view is that if we win on November 6th, there will be a great deal of optimism about the future of this country. We'll see capital come back and we'll see — without actually doing anything — we'll actually get a boost in the economy.

In effect, Romney was saying, "I am the confidence fairy!"…
Professor Krugman goes on to establish that this bit of Romney strategery is working every bit as well as all Willard's other recent tactics — which is to say: badly. Guess it's time for the True Believers to remind each other to Clap Louder!
For the rest of us who will have our hands free, what's on the agenda for the evening?