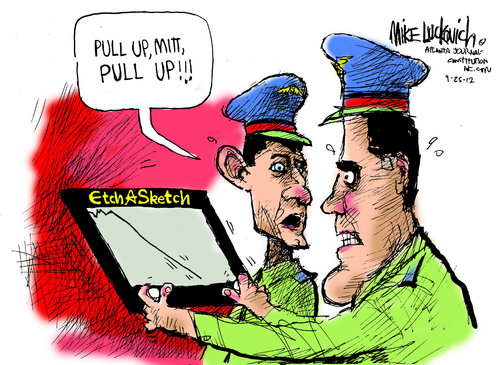 (Mike Luckovitch via GoComics.com)
__
James Fallows at the Atlantic asks an expert: "Can the Romney campaign Be Saved?":
Through this election season we've heard from Samuel Popkin, of UC San Diego, a political scientist and author of a recent book on how presidents position themselves for election and re-election runs…

Popkin's book pays close attention to Harry Truman's come-from-behind victory in 1948, as I described in an article earlier this year (now expanded in e-book form). The natural question is, How do the come-from-behind prospects look for Mitt Romney?

Every mistake a candidate can make, Romney seems to have made, and the frequency of mis-steps and "off-message" distractions seems to be going up. He's never been ahead of Obama, and members of his own party seem variously to be despairing, calling for radical changes in course, or assuming failure and positioning themselves for 2016. Meanwhile Democrats are afraid of jinxing things by pointing out Romney's continued struggles as the clock ticks down — and also genuinely worried about vote-suppression efforts.

What can Romney do?…
SPOILER ALERT:
"Barring economic collapse, Romney's only shot is to get people to reassess him.

Prompting reassessment at this late date means finding new information that surprises people and makes them wonder if the case against Romney is badly flawed. This requires more than a kinder, gentler Romney or a stronger, tougher Romney that out debates the president. Either people rethink what policies and people he stands for or the election depends solely on who is motivated – and allowed – to vote."
Luckily for Ann, not to mention Rafalca, R-money will still have his considerable fortune to console him. A fortune, according to Josh Harkinson at Mother Jones, "worth up to $378.3 million, some 50 percent more than the upper bound that typically gets reported" — once assets like the houses, cars, boats, a $10 million private charity, and the $100 million family trust fund are included.
Now it's up to us, to ensure that every Obama voter gets to the polls, and that every Democratic vote is counted…