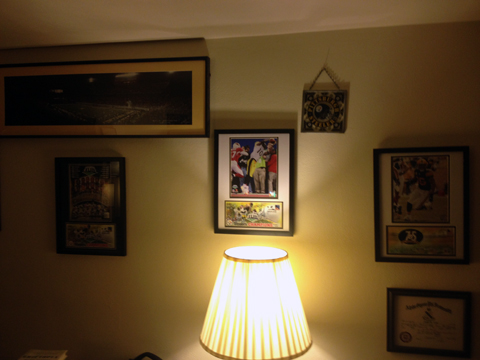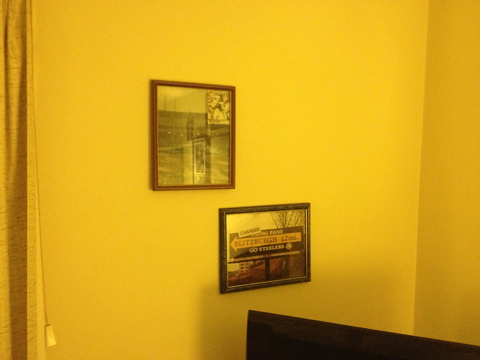 As long time readers know, I am a diehard Steelers fan. My home office has over thirty framed Stiller pictures, and the above are just a few that hang in my office. I have multiple jerseys, several signed jerseys, signed balls from dozens of players, every Steelers calendar for the last two decades, and so forth. If I were to take pictures of every Steelers thing I have in my office, many of you would be horrified.
I have an 11 foot Steelers flag in my front yard, banners in every window facing the street, and my most prized possession is my terrible towel I have had since 1984. It is always on display as soon as you enter my house, and 6 months ago, someone walked into my house for a party, tried to dry their hands on it, and my mother yanked the towel away and damned near threw her out of the house. Mom greeted Johnny Unitas after the greatest game at the train station in Baltimore. That's how we roll.
I love the NFL.
But I am done. These replacement refs are a joke. I am done watching the NFL until refs who can control a game are back on the field. This entire season has been a disgrace, and the Packers/Seahawks game was the worst thing I have seen since Pacquiao-Bradley. So, as much as I hate to say it, I am done with the NFL until they decide to get their shit together. And Gary Bettman can go eat a bag of dicks, too.
Goodell can get his union busting jollies to save a couple million in a 50 billion dollar league. I can just stop watching. You win, Roger, you fucking scumbag. Thanks for taking away one of the few things on this planet I love.
And for those of you who do not follow the NFL, this is all the Jerry Jones wing of the NFL. He's spent the last two decades trying to make the Cowboys the Yankees, and he, sadly, has compatriots. Like Bob Kraft and the other Galtian overlords. None of them seem to realize that parity has made them as rich as they are.
Fortunately, my Rooney's want no part in this bullshit. Regardless, I am done until real refs are back. Why? This:
Why The Replacement Refs Are Horrible And Dangerous, In One GIF
That's Ryan Mundy almost killing someone on the most egregious personal foul I have ever seen. Defenseless receiver? Check. Helmet to helmet contact? Check. Launching the body into the helmet of another player? Check.
He should be fined 100 k and kicked out of at least 5 games. Our replacement refs? They never called shit. No flag was even thrown.
So, goodbye, NFL. I can handle the recognized level of violence that comes with a violent sport. I can not and will not watch the clusterfuck you have created to simply screw a couple union refs out of a pension.
But I can secretly hope that Roger Goodell gets cancer of the penis.