I am fascinated by the way many Republicans seem convinced that Obama's "failed" economic policies are somehow to blame for the slow recovery, while at the same time they seem largely unable to enunciate what precisely those failed policies are.
Well, that is not quite true. They will often cite the over-regulation, deficits, and loose money as the key problems, but they seem wholly unable to explain, using actual data, how these have depressed the economy.
The argument about regulatory uncertainty is both the easiest issue to explore and the least convincing. According to Republicans, Obama's "anti-business," pro-regulation attitude is discouraging investment. The "job creators" faced with regulatory uncertainty are sitting on the sidelines. Well, there are a few problems with this perspective.
This post is full of charts and will remind you, I fear, of Matt Yglesias. If that bothers you, please read no further.
First, the regulatory argument makes little sense logically. Absent some guaranteed permanent GOP majority, there will always be some regulatory uncertainty. If the "job creators" will only invest when they are absolutely certain not to face regulatory hurdles in the future, then they will never invest. Even if Romney wins in 2012, they would still need to fear the return of an "anti-business" Democrat in 2016. After all, according to this argument, the "job creators" have been sitting on the sidelines for the past four years already. If regulatory risk is that severe, and investors are are risk averse as this theory proposes, then recovery will never occur. Further it is difficult to understand how economic growth could ever occur if this line of argumentation were plausible. Happily, it isn't as a general rule.
Second, while I am willing to accept the notion that in theory regulatory uncertainty may deter some new investments, the empirical record is problematic in this particular case. Quick, which three economic sectors seem most uncertain with regard to future regulation? Health care, energy, and the financial sector. I mean, that is pretty obvious, no? These are the three areas where we've seen both the most action and discussion of the need for additional regulation. So if regulatory uncertainty is a key factor driving the slow recovery, then these sectors should be lagging behind the rest of the economy. Are they?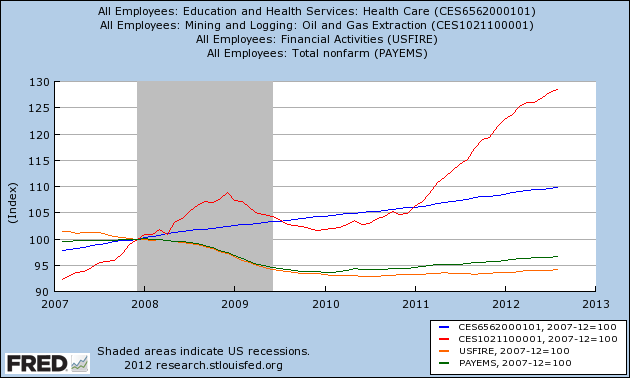 Well, employment in the energy sector is booming (the red line), despite EPA activism on carbon emissions. Health care employment is growing on the same trendline since before the recession began and seems completely unaffected by Obamacare (the blue line). Financial sector employment (orange line) is lagging total non-farm employment (green line) by a relatively small amount, but then again, wages are higher in that sector and have been growing faster than wages in the rest of the economy. The graph below just shows rates of change, not absolute compensation.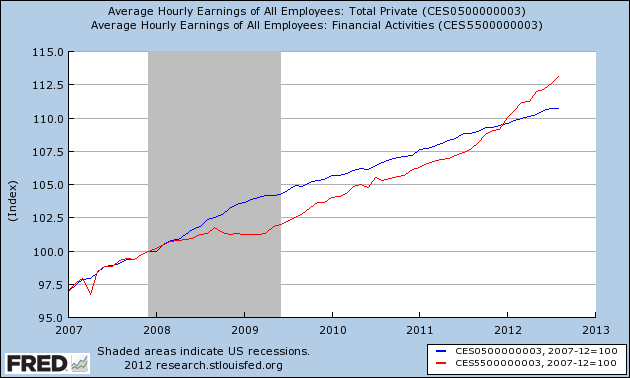 I mean, I am willing to consider the regulatory uncertainty argument. But it seems to me the data just isn't really compelling. The main areas of new government regulation include one boom sector (energy), one sector which is growing faster than the rest of the economy (health care), and one that is lagging slightly in employment numbers, but surging terms of compensation (finance).
An alternative theory focuses on Obama's high deficits. And they are indeed high. But how would that be likely to slow economic growth? Well, one response is basically the confidence fairy concern. High deficits make "job creators" uncertain about the future, so again, being risk averse, they are unwilling to invest. And maybe there is something to that, though Romney's case would be stronger if he were not proposing even higher deficits. But the bigger problem with this argument is that it is hard to test. I mean, how would we know this was occurring?
A more conventional critique of high deficits is the "crowding out" hypothesis which claims that government deficits suck so much money out of the private sector that it "crowds out" private investment. But the mechanism by which this slows economic growth is high interest rates. There is only so much money out there. If the government borrows more, that leaves less available to private investors. Supply of money is fixed in this scenario, demand for money increases due to government borrowing, so the cost of money should rise. The cost of money is, of course, the interest rate. Are they high and rising under Obama?
So, um, no. Mortgage rates –the blue line — are low. 10 year treasuries are low. But feel free to log into FRED and check other interest rates. Commercial paper is paying low rates. Basically, there is zero evidence that I can see for the crowding out hypothesis.
Then you have the "loose money" argument. This is a weird one to pin on Obama since managing the money supply is more of a Fed matter. But it is true that the money supply has increased dramatically, and will continue to increase due to quantitative easing. Romney has called this a "sugar high." But why? When the Fed engages in quantitative easing, it basically prints money and uses that money to buy assets — treasury bills, mortgage-backed securities, etc. So, now the Fed owns a bunch of assets, and the former owners hold a bunch of cash. The Fed hopes this will encourage them to lend more, spurring economic activity. The risk, and it is a real risk, is that having more money in circulation chasing the same amount of goods will cause inflation.
Now, the linkage between inflation and reduced economic growth is sketchy. Some inflation is actually good for economic growth since it discourages people from sitting on cash, and instead encourages them to invest the money in ventures that may have a better rate of return than dollar bills metaphorically sitting in a mattress. But, if inflation is too high, uncertainty abounds and people instead look to move money off-shore into more stable currencies. So loose money risks inflation and currency devaluation. Are we seeing either?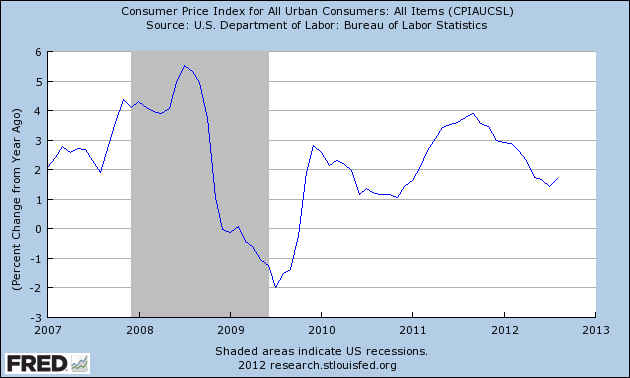 So the consumer price index has risen since 2009, when we were looking at actual deflation, but remains low by historical standards. And in terms of exchange rates: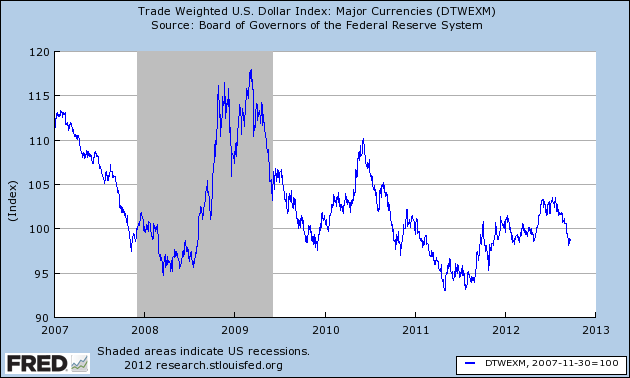 Okay, so I guess there is some decline here of the dollar vs. other major currencies. And this is understated because of Eurozone problems. But interestingly enough this should cut both ways. A weaker dollar may be an indicator of people selling dollars and buying other currencies, but the effect of this ought to be (a) an increase in the cost of imports (which should manifest in inflation) and (b) greater competitiveness of U.S. good abroad (which, if anything, should encourage economic growth).
That said, if you squint real hard and want to rest a lot on inferences drawn from relatively minor changes in the strength of the dollar, then perhaps there is a story about Obama's economic policies you can spin. But it isn't very compelling or very clear.
But in reality, I am just wasting everyone's time. The Republicans don't actually have an economic argument to make about Obama's policies. Obama's great sin isn't regulation or deficits or loose money. His great sin in GOP eyes is simply GWB. No, not the former president, but rather the acronym. Obama's problem is Governing While Black, which is why Romney thinks that by doing nothing, just by being his own fabulous self, economic growth will return if he is elected.