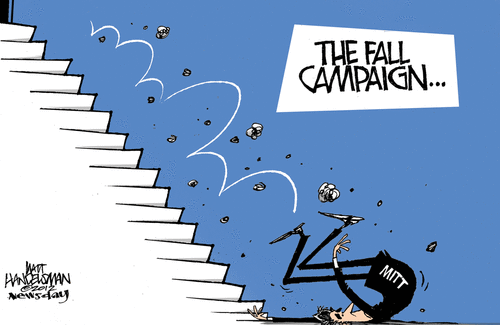 (Walt Handelsman at GoComics.com)
__
Professor Krugman does a little dance on the sad shambles of the GOP:
Sympathy For The Doofus
Mitt Romney is catching a lot of flack from his own side now, which seems premature; although the odds are now against him, this is by no means over. But let me say that even if he does spend election night weeping in his car elevator, his critics from the right are being unfair. Yes, he's a pretty bad candidate — but the core problem is with his party, not with him.

What, after all, does Romney have to run on? True, he hasn't offered specifics on his economic policies — but that's because he can't. The party base demands tax cuts, but also demands that he pose as a deficit hawk; he can't do both in any coherent fashion without savaging Medicare and Social Security, yet he's actually trying to run on the claim that Obama is the threat to Medicare. On fiscal matters, doubletalk and obfuscation are his only options.

And no, Paul Ryan didn't show that it can be done differently. His plan was, as I've documented many times, a fraud. Furthermore, he's basically a Beltway creation; the Ryan legend was based on the desire of Washington type to anoint a Serious, Honest Conservative; expose him to the wider scene, and it all falls apart…
Mr. Charles P. Pierce reads the NYT and spots an exceptionally… Republican… statement:
… If the Republican ticket loses in November, the rush by Mr. Ryan and other 2016 hopefuls to position themselves for the Iowa caucuses "is going to look like Best Buy the night after Thanksgiving," said Craig Robinson, a former political director of the Republican Party of Iowa. "I hate to say this, but if Ryan wants to run for national office again, he'll probably have to wash the stench of Romney off of him."

It's time for an intervention, if not forcible detox. Kids, if you lose this time around, with eight-percent unemployment and the Middle East blowing up, and with a (shh!) Blah President, it's not your candidate. It's not your strategy. It's your ideas, which the country is rejecting because the country just came through the most immense pillaging of its public wealth in the history of human thievery and it has made the link between the piracy in question, and the fact that one of the only two political parties that we permit ourselves to have has been staggering around on the sidewalk, singing old hymns in Latvian while pushing respectable citizens like Willard Romney into oncoming traffic because the party thinks he looks like the man who's come to put in the microchip…
It could always be worse — you could be a Republican…
.