Speaking of butts: it turns out they can improve art! As some of you may have heard, I am a leading Wine Foil Sculptress, which is sort of like being Ann Althouse, only with better wine and less douchebaggery.
Anyway, the other evening, I constructed an armadillo. I used a ballpoint pen (Papermate, medium point) to define the ridges: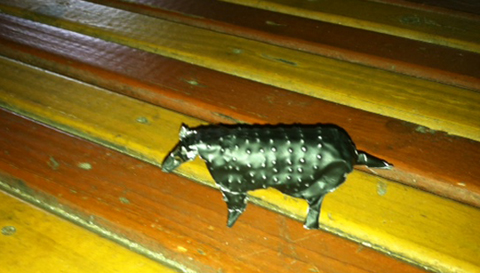 Meh. Something wasn't quite right. Maybe the snout was too long? Or too high up? Tail too short? Anyhoo, I walked away for awhile, leaving it on the surface of my tiki bar.
When I returned a short time later and sat down on a bar stool, I felt something under my posterior and immediately leapt up, thinking I had accidentally squished a frog or giant cockroach. But Mr. C had moved the armadillo sculpture to the seat while I was gone so he could wipe up the cabernet I'd slopped on the surface of the bar during my drunken gesticulations as I was ranting about whatever topic we were ranting about previously, and I'd sat on the armadillo.
And you know what? NOW it looked EXACTLY like the roadkill armadillos that litter our highways down here: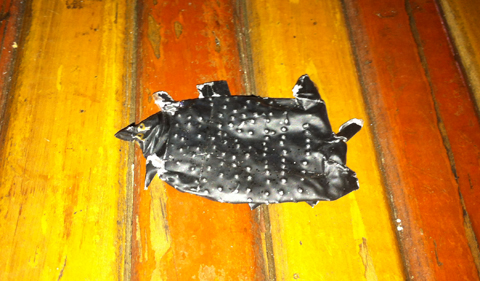 Butts. Is there anything they can't do?
[X-posted at
Rumproast
]