In the previous thread I posted, certain people were all over me for not having a life on Friday. I found this amusing, because as I was writing that post, there were 15 people in my house for our usual Friday night party and pot luck. We had lots of good eats and dozens of bottles of wine and we will rock out for a couple more hours. So I whipped up some signs that say, well, you can read them: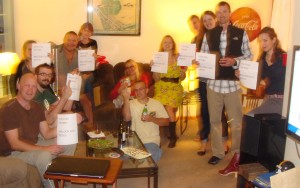 Click to embiggen. Y'all really need to stop worrying about me. I have a fucking great life.
BTW- my mother was standing behind me and refused to hold a sign, not because it had the word "FUCK," but because she felt there should be a comma before haters.
*** Update ***
I am just loving this. Here are the ladies reacting to the comments on the previous picture: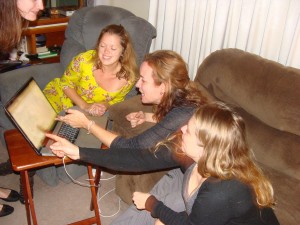 The comment that got them all hysterical was "Although, the girl on the right side with the 7th grade HomeEc imitation Native American Belt and maroon faux-leather boots with tiny gold beads does intrigue me somewhat. She has a nice smile. Kind of mischievous."
The belt is from Peru, the boots are real leather from Sweden, and the wry smile is just her being mischievous, as always. I'm just sitting here cracking up looking at them read the comments about them, thinking- "Hey, welcome to my world, when every picture is super scrutinized to death."
I can assure you- no one here is wearing faux-leather or HomeEc belts.