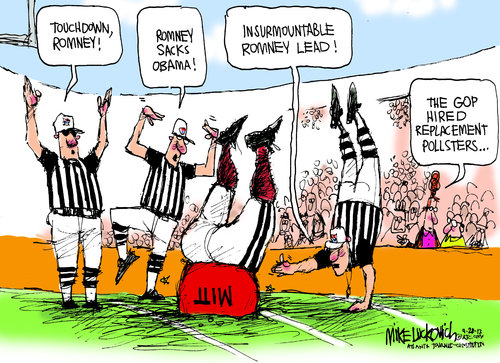 (Mike Luckovich via GoComics.com)
__
__
Again, with the whiteboards? Erick "Voice of the GOP Gated Community" Erickson got fragged by his commentaridiocracy for suggesting (with one eye on his CNN gig) that just maybe possibly perhaps the vile lamestream polling organizations were not all engaged in a conspiracy to suppress Romney's obviously-must-be-winning stats. So, today, Erick-Fractal-Erick has an awesome suggestion for the next Mitt-mobile tour:
… If Mitt Romney wants to win the election, he needs a five week strategy instead of five weeks of tactics. He needs the visual equivalent of Benjamin Netanyahu's red sharpie marker. He must force the media to move away from poll driven coverage they are comfortable with to Mitt Romney's idea of coverage.

Instead of us arguing over polls and having the RedState community rioting over my remarks, let me offer up a solution. Just, for the sake of argument, assume I'm right that this is a close race, but that Romney is behind — just for the sake of argument people. If we can accept we do have a problem, i.e. we are behind, we can then offer up a solution to that problem…

The cheering, adoring crowds at the Romney rallies have been awesome and large. But In the rah-rah of the campaign, we're missing the compelling visual. We're missing the simple drawing of the bomb that a red line can be drawn on. We're missing the candidate in front of the factory showing we can do better….
Because inside the GOP gated community, Netanyahu's Wile E. Coyote visual rated 'four slam dunks!!', I guess. To be fair (well, honest), Mr. Erickson probably doesn't have a whole lot of personal experience in differentiating between the visual markers for "awesome" and "dumbstruck"…
Meanwhile, Doghouse Riley takes his Pig Bladder of Righteousness to some Politico intern tasked with channelling "GOP Sooper Geenyus" Karl Rove's helpful suggestions:
"I think he's going to say a lot of things that aren't accurate," Romney said on ABC's "Good Morning America" earlier this month, adding he would have to choose between correcting Obama and delivering his own message.
__
"I'd be tempted to go back to that wonderful line by Ronald Reagan, 'There you go again,'" Romney said.

Oh, please do.
Thought experiment: How many thousands of dollars in donations to OfA do you suppose it would be worth if President Obama were to use that line in the first debate?
Because the Trickster-God knows, he'll have plenty of opportunities.