I just found this photo and I figured I'd share it with the class. (Heather took and emailed it to me a month ago. My inbox isn't pretty, people. I am close to abandoning it entirely.)
It's me and Wonkette editrix Rebecca Schoenkopf standing boob-to-boob doing something that is apparently supposed to be sexyface. Hers has a definite "rawr" quality to it and is on point. I, as Zandar pointed out to me on Twitter, look like I have to poop.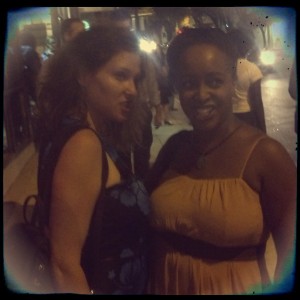 Back up offa me. I'd had about eleventy scotches at this point.
Thanks again to all who donated to Roadtrip 2012, and I plan to send actual thank you notes to those who sent snail mail to POWR.
Cheers!
[cross-posted at
ABLC
]