Jake Tapper and ABC News are apparently agreeing with Tucker Carlson that the biggest racist in the country is President Obama:
On the eve of the first presidential debate, the conservative website The Daily Caller Tuesday circulated previously unreported clips of a five-year-old speech in which then-Senator Barack Obama praised his controversial former pastor, Rev. Jeremiah Wright, and suggested the federal government discriminated against the victims of Hurricane Katrina.

"I've got to give a special shout-out to my pastor. The guy who puts up with me. Counsels me. Listens to my wife complain about me. He's a friend. And a great leader," the president said of Wright in an address to the Hampton University Annual Ministers' Conference in Hampton, Va., in June 2007 in video posted by The Daily Caller and first aired on Fox News.

ABC News ran that clip in a March 2008 piece on "World News Tonight with Charles Gibson." At the time, prepared remarks of Obama's speech were released by the campaign and a local newspaper posted a nine-minute edited video of the address. What ABC News and many others, including The Daily Caller founder Tucker Carlson, covered at the time was based on that edited video and the prepared remarks.

As ABC News reported at the time, Obama implied the Bush administration had ignored what he called "quiet riots" in the United States — serious instances of poverty and hopelessness that had gone unaddressed by the federal government.

But the full version of the speech, posted on The Daily Caller website this evening, shows Obama taking that argument a step further, suggesting the federal government overlooked the needs of residents of New Orleans suffering in the wake of Hurricane Katrina, as opposed to victims of other disasters in other parts of the country.

"Down in New Orleans, where they still have not rebuilt 20 months later," Obama says, "there's a law, federal law — when you get reconstruction money from the federal government — called the Stafford Act. And basically it says, when you get federal money, you've got to give a 10 percent match. The local government's got to come up with 10 percent. Every 10 dollars the federal government comes up with, local government's got to give a dollar.

"Now here's the thing, when 9/11 happened in New York City, they waived the Stafford Act — said, 'This is too serious a problem. We can't expect New York City to rebuild on its own. Forget that dollar you got to put in. Well, here's 10 dollars.' And that was the right thing to do. When Hurricane Andrew struck in Florida, people said, 'Look at this devastation. We don't expect you to come up with y'own money, here. Here's the money to rebuild. We're not going to wait for you to scratch it together — because you're part of the American family.' … What's happening down in New Orleans? Where's your dollar? Where's your Stafford Act money? Makes no sense. Tells me that somehow, the people down in New Orleans they don't care about as much."

Carlson told Fox Tuesday night the clips were evidence the then-candidate was "whipping up race hatred and fear. Period."
So, umm… Was he wrong? Were there exceptions for 9/11 and Hurricane Andrew and not Katrina? Why was that?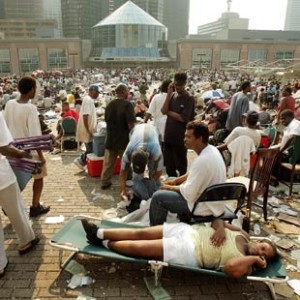 Nowhere in the piece was any discussion over whether or not Obama still smokes cigarettes, so I am not sure how much of this is Tapper's or Mary Bruce's:
Last August, I ran into Sen. Barack Obama, D-Illinois, outside the Senate chamber in the Capitol.

This was before the Obama surge, before he had omnipresent Secret Service agents, back when you might see him strolling solo.

We chatted for a second, mainly about the Pakistan speech he'd recently given and about how the media had covered it. He was in good spirits.

As any close friend or family member can attest, I have an unusually keen sense of smell and immediately I smelled cigarette smoke on Obama. Frankly, he reeked of cigarettes.

Obama ran off before I could ask him if he'd just snuck a smoke, so I called his campaign.

They denied it. He'd quit months before, in February, they insisted. He chewed nicorette.

But I knew what I'd smelled and I asked his campaign to double-check and to ask him if he'd had a cigarette.
Up next- ABC News airs Obama in the Whitey Tape.
Is there anything more depressing than a White House Reporter regurgitating shit from Tucker Carlson and Matt Drudge and advancing the BLACK PEOPLE ARE THE REAL RACISTS trope?
I guess the election is not close enough, so journamalists must do what they need to to get the Drudge and Free Republic hits and simultaneously change the dynamic of the race. Or maybe audition for a job at their sister network.
So sad.