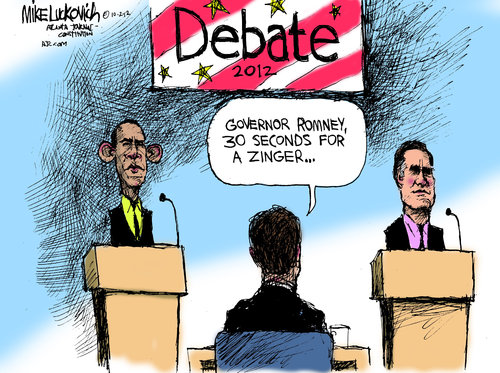 (Mike Luckovitch via GoComics.com)
__
Guardian liveblog here.
Aaaaaand Balloon Juice slows to a crawl…
************
Lehrer wants this debate to be very, very boring. Odds are he'll get his wish.
President Obama notes it's his twentieth anniversary. So he wins, no matter what the MSM says!
***********
One thing all the prep has given him — Romney lies a lot faster now, way more LPM (lies per minute).
Can't tell when the stuttering is the speakers (Obama not doing well on the uh, uh, uh tic, alas) and when it's the servers sagging.
****
"Five months of campaigning and it turns out Romney's big plan is "Never mind." That's gotta sting.
***********
Starting around 9:45pm, seems to me like Obama stopped deferring to the moderator and took control. Partly because Romney (temporarily) ran out of lies to shove.
Lehrer's really letting Romney cheat on every metric. There was discussion beforehand that Lehrer was too old & should've stayed on the sidelines; tonight's performance will reinforce that.
****************
I assume somene's crunching the tape, because I swear Romney was permitted to take approximately 35% more talking time. Lehrer should be ashamed of himself, assuming he were capable of feeling shame.