I really don't know how to score it. I kind of feel like I just spent the last hour and a half on several hits of acid, sniffing dirty socks I had dipped into hospital ether, stoned to the bejeezus on kine bud, doing foil hits of opium while drinking a quart of vodka and watching Beetlejuice in slow motion while naked rolling in body paint as the Velvet Underground's "Heroin" played on repeat at earbleeding volumes and every time someone in the room tried to talk to someone else, they just pointed at someone, did a hit of amyl nitrate, and giggled uncontrollably. Also too, rainbows. Go ask Alice. I hear she's ten feet tall.
If ever there was an example of a post-truth debate, this was it. Mitt Romney claimed he isn't actually proposing five trillion in tax cuts and two trillion in increased defense spending. Except, you know, he's spent the last two years doing just that\:
Earlier this month, a nonpartisan group of tax experts took matters into their own hands and tried to analyze the tax plan. What would happen, they asked, if you actually made all the cuts he has proposed? That would mean extending the Bush cuts, reducing income-tax rates by an additional 20 percent, and ending capital gains taxes for the middle class, the estate tax, the alternative minimum tax and the various taxes in health care reform, including the Medicare tax increase on high incomes. The experts at the Tax Policy Center estimated that this would cost $456 billion a year, starting in 2015.
Romney claims he doesn't want to repeal Dodd Frank and loves regulations. Except, you know, when he says otherwise:
Mitt Romney has vowed to repeal and replace Obama's Wall Street reform law. But many vocal opponents of Dodd-Frank believe that's highly unlikely — and suggest that incremental reforms to the law are the most they'd expect to happen, even in a Republican controlled Washington.
Romney claims he doesn't want to spend 2 trillion more on the military, above and beyond what the Pentagon has requested. Except when he does:
President Obama and Mitt Romney have a big disagreement over defense spending — up to two trillion dollars' worth.

Obama includes defense cuts in the mix for deficit reduction.

Romney, by contrast, would be the bigger spender. He rules out any cuts to military spending as an option to curb the country's growing debt. "I don't think you cut [the] military for purposes of balancing a budget," Romney said Wednesday.

Today, close to 16% of the federal budget is spent on the Department of Defense's base budget. Add in war funding and military spending accounts for closer to 20%.

The United States is by far the biggest spender on defense — accounting for 41% of worldwide military expenditures in 2011, according to the Stockholm International Peace Research Institute.

Indeed, last year Americans spent more than all the other countries in the top 10 list combined, including five times more than China, the No. 2 spender
Romney claims he wants to keep parts of Obamacare that are "good," except when he doesn't:
"Well of course I'm going to repeal Obamacare," Romney told the conservative radio host on Monday. "I've said that on the campaign trail, I think, every single day. Obamacare must be repealed –- in its entirety. It's bad policy, it's bad law, and frankly, a $2 trillion entitlement we don't want and we certainly can't afford. I have my own health care plan, and it does not require Obamacare to make our health care system work better. Obamacare is a disaster in my opinion, and has to be repealed entirely."
It's all just so crazy for me. It's like watching the most post-truth debate ever, and people I know and live with are calling at me screaming at me, even though they have no clue what is actually going on. Just weird. It reminds me of when I was playing Wolfenstein in 1981 on an Apple and I would open crates of surrealist art and wonder "WTF IS THAT?" Also too, AUF SCHWEIZ!
So I don't know how to score it. On aggressiveness and overall smirks, Romney won, I guess. Obama seemed too passive or unwilling to call a liar a liar, and needs to be much more aggressive. What impact will it have on the race? My guess is Romney's negatives will drop again and the race won't really change much.
How about some Dead, since we are in a psychedelic mood. Here is the amazing Grateful Dead art piece I commissioned from commenter Spatula: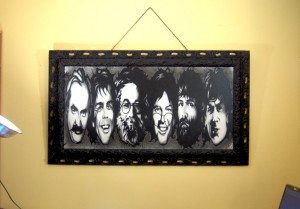 Click to embiggen.
And yes, I know most of you hate him as a commenter, and in all honesty, I hate him a lot of the time, too, and it is reciprocated with his disgust for me, but hot damn does he have mad skills. We spent the better part of a year talking through what I wanted, working with each other, bringing out the best in his creative talent, and I have to say this is a fucking masterpiece. We spent days talking about what I envisioned, what I thought would look best, how I wanted the lyrics to be such an integral part of the piece, how the members should really look, etc. I think I really challenged him and he came up with one of his best works ever. We spent hours talking about the right look, how he could tweak it and make it better, how he could make it more inline with my vision. I've never worked with an artist more willing to work with a buyer and make a mutual vision happen. If you want a masterpiece, pay this guy. He has skills. BTW- all the scribbly looking stuff around the heads are lyrics I chose from songs that mean something to me that he wrote in by hand for effect. This will be in my living room until the day I die. Or fuck up and get married.
At any rate, I'm listening to this:
I need to decompress, or maybe talk to this guy:
Night, haters!