More thoughts.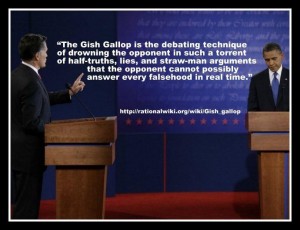 Immediately following the debate, I was frustrated. And visibly so. You can check out the postdebate analysis that I did with Team Blackness over at The Root. We were not amused.  I was angry, actually.
As time passes, however, I'm more and more confident that President Obama will ultimately be viewed as the winner of last night's debate, for multiple reasons — six, to be exact:
1. Mitt Romney lied. A lot. And the media is already starting to do its job and fact-check Mitt's nonsense.  Long after his confident performance is forgotten, he will be left with his own lies, fabrications, confabulations, half-truths, mistruths, and flip-flops.
2. President Obama answered the questions posed: During a press conference call this morning with top Obama campaign advisers, David Axelrod was asked why President Obama didn't do more to point out and highlight the myriad Romney falsehoods. Axelrod responded that Obama's strategy going in to the debate was to answer only the questions posed. Axelrod pointed out that Mitt Romney is running a campaign that is completely untethered from the truth, and noted that the ultimate question in the campaign will be one of character.  And you know what? We already know that Romney has no character or core beliefs.
3. The Gish Gallop fallacy: I saw this graphic floating around on Facebook and a lightbulb went off in my head like a ton of bricks. The Gish Gallop! Of course!
[read full post at ABLC]