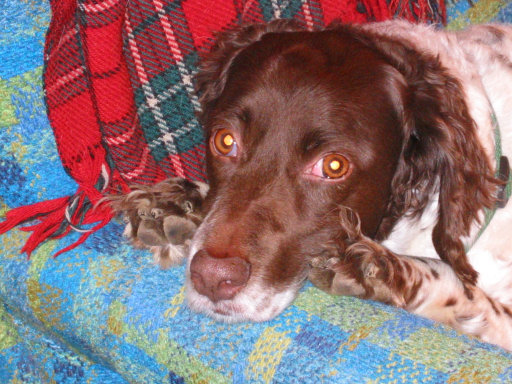 __
From commentor U.W.Mumphrey:
We had to say goodbye to one of our dogs this morning…

We took our 15 and a half year old Spaniel in today for the last time. She's had trouble with her bladder for two years, but she was otherwise healthy, but she began to run down in the last month or so. She had a hard time getting up and walking. Early this morning, she woke me up crying. Something was hurting her, and I didn't know what it was. I couldn't help her, and I got the feeling it was time. My wife and I took her in, and I brought a big hunk of watermelon, which has always been her favorite food with us. She always went wild whenever I ate watermelon; she could smell it from anywhere in the house. But this morning, as we sat with her at the animal hospital, she nibbled at little bits I broke off for her, but soon lost interest. I guess it was that, more than anything, that told us it was time.

That crazy old goofball was always so full of life. It's hard to think she's gone; it didn't seem like she could ever not be full of life. I think she'll always be the definitive dog for me, the ones the others all stack up against. We're going to drive down to my mother's house in the country tomorrow and I'll bury her with our other dogs we've had to let go. Even when this is the right thing to do–and I guess we always wonder whether it really was the right thing to do–it sucks hard. It seems so weird to know she won't be eating breakfast this morning, and that I won't have any puddles to clean up any more. It feels empty.
"Now I must look for another path / Which I know I never will find / One that does not carry the sound / Of Four Feet running behind… "