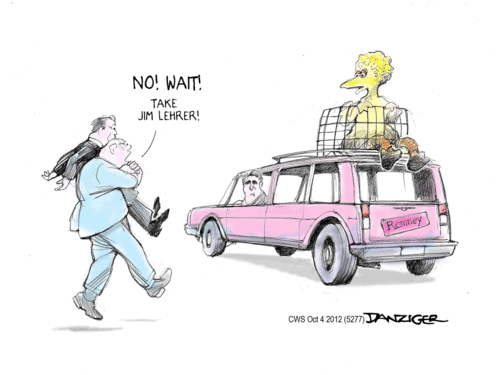 (Jeff Danziger's website)
__
Not quite 'tire rims and anthrax' quality, IMO, but I was moderately amused by Timothy Egan's NYTimes Opinionator, "Idiots' Delight":
You're an undecided voter. Your time is up. The rest of us are sick of pretending to care about you, saying nice things to you, doing your damn laundry.

Decide, O.K.? When the choice was between Scrooge McDuck and the Kenyan Socialist, you couldn't make up your mind. Now that you know it's between two Harvard know-it-alls, with clear, divergent views of government, you're waiting for — what? The long-lost Mormon tablets to reappear? Donald Trump to reveal what his phantom investigators found among the birth records in Hawaii?…

And here's what we know: there aren't that many of you, not compared with past years. In 2008, 1 in 7 voters was persuadable at one time. This year it is closer to 1 in 20 — about 5 percent. And in your hands, the savants of politics say, rests the future of the republic…

The headline of an Associated Press story on you was typical: "Many Watch Debate; Some Are Pleased, Few Are Moved." After the debate, a CNN focus group of your type found that eight of you were now leaning toward Romney, and eight of you were coming over to the Obama side. No real movement, in other words.

I'm going to let you in on a little secret, after many years of sitting with you during past presidential debates: we don't like you. Not because you can't make up your mind, but because you won't.
Apart from people who couldn't choose between water and sand if their crotches were set afire, what's on the agenda for today?