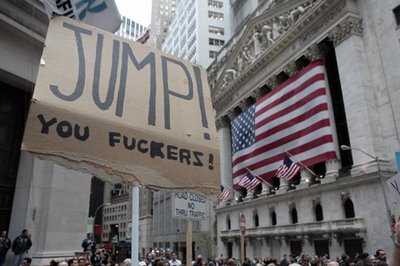 What a joke this crackpot old man has become:
Welch said he will no longer contribute to Fortune following critical coverage of the former CEO of General Electric, saying he would get better "traction" elsewhere. On Friday, Welch suggested that the Obama administration, calling them "these Chicago guys," had manipulated the monthly jobs report in order to make the economy look better than it actually is just weeks before the election. Welch has been battered by criticism since making the suggestion on Twitter.

Monday morning on MSNBC's Morning Joe, Fortune managing editor Andy Serwer said there were a number of things wrong with Welch's tweet, the biggest of which was that the economy doesn't back up the former executive's claim that the numbers were faked.

"I think it's exactly the opposite of what Jack Welch is saying," Serwer said. "Things are actually improving."

CNNMoney, which shares content with Fortune.com, ran a story on Friday covering Welch's tweet. The piece said that even conservative economists thought Welch was wrong to question the jobs numbers. On Tuesday, Fortune.com ran a story detailing Welch's record as a job destroyer. GE lost nearly 100,000 jobs during the 20 years in which Welch ran the company. "I never put myself out there as an employment agency," Welch told Fortune.

Following the story, Welch sent an e-mail to Reuters' Steve Adler and Serwer saying that he and his wife Suzy, who have jointly written for Reuters and Fortune in the past, were "terminating our contract" and will no longer be sending our "material to Fortune." Reuters' story about Welch's tweet quoted money manager and blogger Barry Ritholtz, who said Welch's comments were laughable. Reuters wrote that Ritholtz comments were referring to allegations that Welch regularly manipulated GE's earnings during his tenure as CEO in order to best Wall Street profit estimates.
How long before he is at Fox News and Town Hall?
The more important thing about this is just how thin-skinned our elites are- they have everything in the world going for them, yet when they say something factually inaccurate or stupid, they can't handle even tepid criticism. It's the same with all of them. We've all read the New Yorker piece about our poor, victimized millionaires and billionaires, we all remember the reaction of the Koch boys, who spend fortunes influencing elections but then get all sorts of butthurt and launch a PR campaign after Jane Mayer wrote about them. And who could forget this classic:
We are Wall Street. It's our job to make money. Whether it's a commodity, stock, bond, or some hypothetical piece of fake paper, it doesn't matter. We would trade baseball cards if it were profitable. I didn't hear America complaining when the market was roaring to 14,000 and everyone's 401k doubled every 3 years. Just like gambling, its not a problem until you lose. I've never heard of anyone going to Gamblers Anonymous because they won too much in Vegas.

Well now the market crapped out, & even though it has come back somewhat, the government and the average Joes are still looking for a scapegoat. God knows there has to be one for everything. Well, here we are.

Go ahead and continue to take us down, but you're only going to hurt yourselves. What's going to happen when we can't find jobs on the Street anymore? Guess what: We're going to take yours. We get up at 5am & work till 10pm or later. We're used to not getting up to pee when we have a position. We don't take an hour or more for a lunch break. We don't demand a union. We don't retire at 50 with a pension. We eat what we kill, and when the only thing left to eat is on your dinner plates, we'll eat that.

For years teachers and other unionized labor have had us fooled. We were too busy working to notice. Do you really think that we are incapable of teaching 3rd graders and doing landscaping? We're going to take your cushy jobs with tenure and 4 months off a year and whine just like you that we are so-o-o-o underpaid for building the youth of America. Say goodbye to your overtime and double time and a half. I'll be hitting grounders to the high school baseball team for $5k extra a summer, thank you very much.
It's time everyone starts to realize that these guys aren't that tough and they aren't that smart. They're just lucky, they're just pampered and sheltered, and they're basically petulant trust fund douchebags. They're the photo-negative of the dread-locked pot-smoking trustafarian- instead of a jamaican knit hat and a hemp hoodie, they wear Brooks Brothers and Bruno Magli's. But they're just as entitled and just as worthless.
And no trustafarian ever brought down a world economy with his greed.