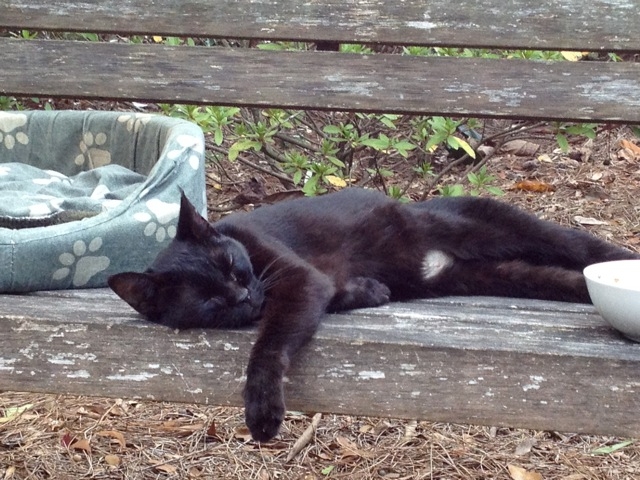 __
From commentor Tesslibrarian:
This is Skinny Kitty, but she's being called Miss Kitty, because to remind her that she's too skinny would be rude. She's just a skeleton in a fur coat, but the most affectionate little thing you've ever seen. She's so attuned to people, we thought for sure she was simply lost, but we're close to campus (students who don't take their pets with them) and it turns out our neighbors have seen her around for weeks before she literally stopped in front of our car in the middle of the road the other night and refused to move until I got out to shoo her along, at which point she ran to me, purring.

She's FeLV and FIV negative; we had her vaccinated against rabies last week, given her flea treatment. Our vet says she's less than 7 years old, but age is hard to determine because she's so thin. (Once she fills out, I think she's going to be a round little thing, maybe as much as 8 lbs.) She may have some dental problems–she's missing her canines, and seems only want to eat canned food, though she'll eat dry if that's all there is.

She adores to be held, and now that she's getting some regular meals, a warmer place to sleep (she has a bed in our shed in the backyard for nighttime; we move the bed to the wooden bench in the back during the day), and was given an antibiotic to clear up her eye infection, she is a little demanding and vocal, too, with an adorable brogue to her meow. It is wonderful to see her with such energy, start to see more personality come out of her. She's very weak, but will still head butt your knees, even if it means she'll knock herself tippy.

We cannot keep Miss Kitty, and neither can our neighbors, and I am desperate to find her a good home before it gets cold, but ideally before Halloween. She's already trying to follow us and our next-door neighbors indoors, which breaks my heart. We are going to be placing her in our laundry room tonight, since it will be in the mid-40s, and the little thing doesn't have an ounce of insulation, even from muscles.

We aren't sure how she does with other cats; I think she'd do well with children–she will give a soft hiss or light growl if you are doing something that displeases her, but it's really just a filing of a complaint so you know she's unhappy. She also didn't hide from the princess-themed birthday party our 7-year-old neighbor had outside yesterday, and it was pretty squealy. She's never once tried to bite or scratch me, and she wasn't even spooked at the vet, even when they took her temp and shaved her belly to find the spay scar.

She will be the most loving little friend, and we just need to find her a place that will keep her indoors all the time and love her back equally. Would anyone like to love her back? She's in the wrong life, and I know the right one has to be around here somewhere. (We deliver–she goes into cat carriers without resistance, and doesn't even mind the trip in the car. As our vet said when he examined her, "She's too well-behaved to be one of your cats.")
__
Anybody interested, or if you've got a lead for a potential home, send me an email (click on my name in the right-hand column) and I'll hook you up with Tesslibrarian.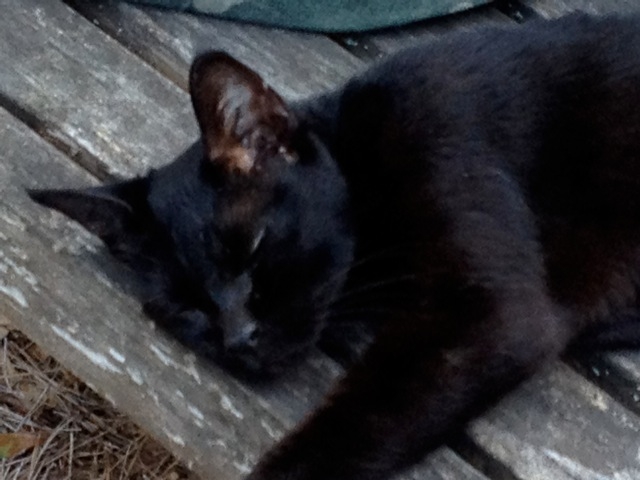 __