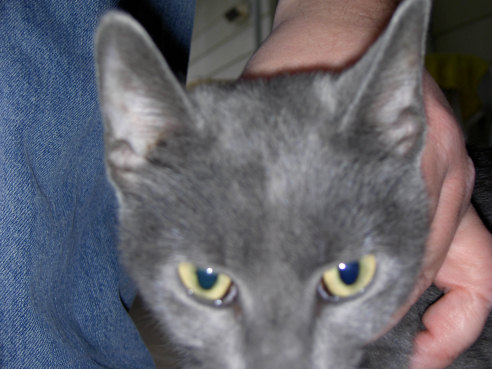 From commentor Freemark:
I am attaching some pictures, sorry for the quality but an old digital camera and this little girl never stops moving. The back story is this; this older kitten ran into our house 2 days ago skin and bones but as friendly as could be. I'm not one to feed homeless cats but there was no way I wasn't feeding her. Its obvious by her friendliness and willingness to be picked up that she was living with someone but got dumped.

I'm back living with my parents as I'm going back to get my Physics degree at 44. They don't want her and I can't in good conscience tell them I'll take care of her when I'm away 12-14 hours a day at school. Add that to the fact my mom just had open heart surgery. As well as I really can't afford to get her spayed, shots, etc on my school loans but I don't want to take her to the SPCA as her chance of adoption is 50/50. She is super friendly and quite willing to be picked up but squirms if you try to cradle her. She is a beautiful charcoal gray with golden eyes…

I live in Saginaw, PA which is just outside of York, PA.
If you have a lead, or know of a no-kill shelter in the area that has a space for this sweetie, send me an email (click on my name in the right-hand column) and I'll put you in touch.