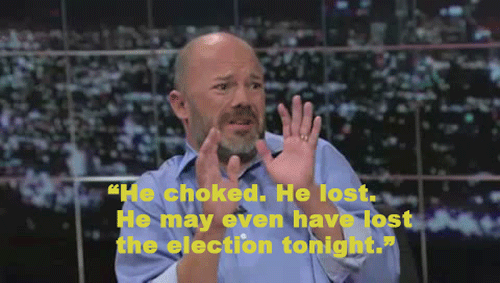 Kevin Drum argued that part of the reason that Obama got such bad press after the debate was a "hack gap", by which he means that liberals were poorly served by the "liberal media" (read: MSNBC and allies), who freaked out, and that this freakout might have led to some of the bad press that Obama got after the debate. I don't know about that, but he sure has a point here:
Sure, demeanor matters. If Obama hesitated too much, seemed unsure of what he wanted to say, and inserted too many ums and ers into his sentences, then by all means ding him for it. But what I'd really like liberals to focus on is the actual content of the answers Romney and Obama delivered. And on that score it's hard for me to believe that Obama deserved the shellacking he got. Maybe you think he should have attacked Romney harder. Maybe you think he should have called out Romney's evasions more crisply. But those are fairly modest criticisms. On a substantive basis, Romney consistently evaded, distorted, and in some cases outright lied. And Obama called him on it. It's right there in the transcript in case too much steam was blowing out of your ears in real time to hear it. That's what I wish liberal talking heads had focused on: the actual content of the debate. On that score, yes, Obama could have done better. But it wasn't an epic disaster.

Content, content, content. That's what I want my fellow lefties to obsess about.
Romney's new strategy is to be a bold liar in moderate clothes. The media will do a fine enough job emphasizing his boldness and moderation, how that plays in the heartland, blah blah fucking blah. It's up to progressives/Democrats/Obots to emphasize the lying and extremism.  Even if Chris Matthews' or Andrew Sullivan's delicate dispositions can't tolerate it, nobody should expect a slam dunk from Obama or Biden in the next debates. Romney and Ryan are extremely slippery, effective dissemblers, and they can stonewall with bullshit for 90 minutes. The debates are not set up like a truth commission, and there's no referee who will call truth vs lies. Obama needs to slip in his refutations quickly and deftly (which was his main substantive failing in the last debate–he didn't have a crisp rebuttal to the most obvious lies) and move on to making his positive case.  Then hammer the swing states with ads emphasizing vouchers, abortion flip-flops, Big Bird and anything else stupid, unpalatable and/or false that Romney said.
(Sully pic from the Buzzfeed doing what it does best.)