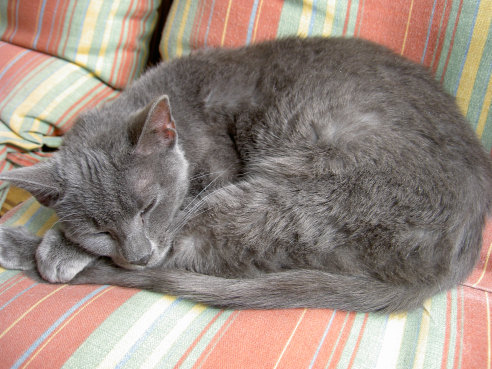 __
Since I could, I sent commentor Freemark some funds towards getting the grey kitty vetted. He wrote me back Wednesday evening:
I'm attaching a few more pictures now that she has a full belly, is less anxious, and has settled down…

I have to admit I've been looking up cat care on-line. She is growing on me even though I've always been a 'dog' person. I need to give it some more thought as I'm all in when it comes to pets. I also have to consider the Parental Units, but I can say she is growing on my dad. If I can just get her to go in the litter box I bought. She goes beside it so I'm looking into how to fix that. No matter what I will make sure she has a good home whether it is here or somewhere else…
Another update on Thursday afternoon:
I would say the chances are better than 60/40 that we'll keep her. Haven't named her yet but leaning towards 'Natasha' since she's of Russian background. I take her to the vet on Friday for wellness visit, all vaccines, stool/parasite test, etc. Its $160 and doesn't include spaying. I will spay her but may be another 2 weeks for me to save, she won't be outside at all, up I'm already putting everything over the funds you sent on my credit card. Had the damn thing paid off too.

I want to make sure I thanked you without your help I'm not sure what would have happened, she probably would have gone to the SPCA. A friend of mine volunteers there and wasn't hopeful about her adoption. I have never found it easy to ask for help so your direct offer made it easy for me to accept your help and I feel certain Natasha appreciates it also.

I will also say that the Balloon Juicers encouragement helped me to decide to try and keep her. I don't take adoption lightly. My last pet was a Yellow Lab that I had for almost 17 years. I even put off schooling to make sure she was taken care of. After that experience of owning of a such in your face attention/affection harlot I wasn't sure I would like a cat, but I have to say she has grown on me. The fact that the balloon-juicers convinced me that a cat does well by itself for extended periods(hours) gave the option of trying to keep her.

If anyone donates further it will be greatly appreciated but know I will find a way to take of her either way. Thank you again… I don't think I would have liked the guilt of taking her to the SPCA.
Anybody wants to chip in towards getting Natasha spayed, send me an email (click on my name in the right-hand column), and I'll email you Freemark's PayPal address — he's worried about spam-bots harvesting here on the blog. Freemark volunteered that anything over the cost of getting Natasha up-to-date on her health care, he'll pay forward towards the next BJ Pet Bleg.
__