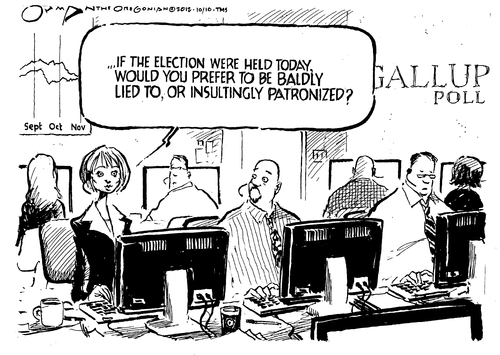 (Jack Ohman via GoComics.com)
__
Paul Constant alerts us to the way that "The Romney Campaign Is Successfully Hiding Both Candidates from the Public":
… These schmucks are terrified that one real human being with one real question will shatter their perfectly constructed illusion, and the sad truth is that the only remaining opportunity to break this person-free bubble Republicans have built around their candidate is at tomorrow's town hall debate.
***********
Right now I am not at peace with the world, because the novocaine is wearing off so my lower lip is itching like mad and it's still too numb for scratching. Also, the $1500 crown turned into a $2000 crown over the course of a long afternoon in the chair, and yes I am aware how lucky I am that I have access to credit that allows me a level of dental luxury even my grandparents could only dream about. And yet. Forget the flying cars, where's my third-stage tooth bud regeneration cloning?
Apart from that, what's on the agenda for the evening?