Every week when I go to the Public Market in urban Rochester, I pass by a Jill Stein sign, and I'm reminded by dedicated activists that Gary Johnson is running for President, and that there's still a Socialist Party in America. Setting aside Stein, who has no supporters eager enough to hold up a sign in person, and the real Socialists, who are more newspaper peddlers than activists, it's odd how Libertarians have been consigned to the third-party ghetto after all the attention Ron Paul got in the primaries. Paul still won't endorse Romney, and Johnson is on the ballot in 47 states, including almost all the swing states. Yet the only poll I could find that includes Johnson was a Reason-sponsored poll that shows him at 6% nationwide.
There are a lot of very tight swing states, and if that poll is only half right, Johnson could deny Romney the Presidency, if the true Libertarians vote their principles. But, in addition to the mainstream media and polling blackout, Reason seems to be actively trying to suppress enthusiasm for him: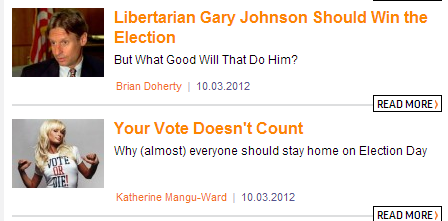 If you were a third party trying to get attention, wouldn't you be pushing hard for voters in a couple of key swing states to pull for Johnson? What better way to show Republicans that they ignore Libertarians at their peril, and to grab some real power in the Republican Party? Instead, the Johnson campaign has all the visibility of the Greens and the Socialists, and even the house organ isn't pulling for him very hard.
Libertarians write Balloon Juice off because we're so quick to call them "Glibertarians", but if you can't support your party's candidate for President one of the few times it might actually matter, then you deserve to be called out for having a party affiliation that you trot out at a cocktail party rather than in a voting booth.