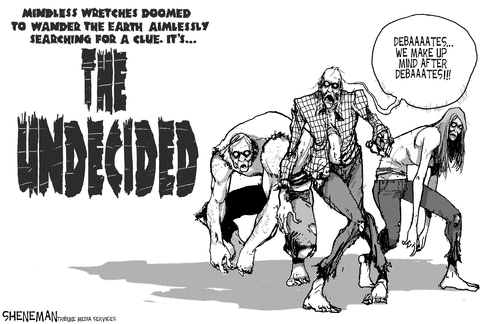 (Drew Sheneman via GoComics.com)
__
Per the invaluable Mr. Charles P. Pierce:
… [I]n my goofy optimistic way, I am clinging to the town-hall format as my last hope that anything resembling something new and interesting will break through the din of a campaign aimed almost completely at the twelve undecided voters left in America. (The "ordinary voters" selected to participate on Tuesday evening are all "undecided voters" chosen by Gallup. All due respect to their honesty, and to Gallup's due diligence, but that data indicate that, given the fact that they need enough people to fill up a ninety-minute debate, some of those people lied their asses off to get the gig.) It is the last stand for spontaneity, the last possibility of a human moment before both candidates climb back into their bubbles and bounce across the landscape the way that white blob on The Prisoner used to do it. It will be the last chance for flesh and blood before the election roars to its inevitable conclusion as a bloodbath of decimal points…

It's a thin reed, I know. The people asking the questions at Hofstra University have been poked and prodded and vetted and, for all I know, fed tranquilizers, so that nothing will disturb the peaceful and blessed "centrism" and "balance" for which the organizers strive to the exclusion of all that nasty human unpredictability that can get people so damned worked up. The problem, of course, is that we should all want these people to be worked up. The country is still a very tough room for far too many people. Living in America has become hard, grinding work, not altogether because of factors beyond out control, but also because of what we have let our politics become. People should be angry. People should be grim. If, as always happens, somebody comes up with a genuine tale of sorrow and woe, the candidates should be allowed to emphasize for one entire minute and then, dammit, they should be expected either to tell this person specifically how their policies would alleviate the person's situation, or why that person is simply going to have to suck it up while we get things in order for the bond traders.
Also, here's a Sesame Street meme that actually adds something to the general discussion: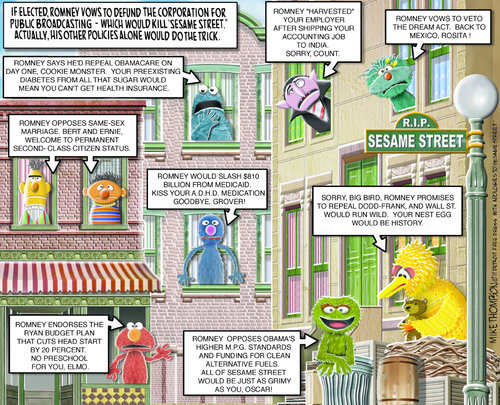 (Mike Thompson via GoComics.com)
__
Click on the cartoonist's name, which will take you to his GoComics page, where you can click on the magnifying-glass icon for a larger, more readable version.
**********
Apart from the Hofstra town hall, what's on the agenda for the evening?