I know that this will get boos and hisses from some of you, but I saw this on facebook and got hysterical: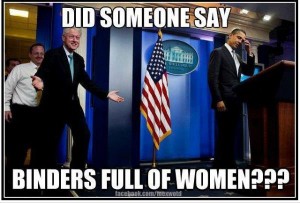 Oh, and if you were wondering who would be the first progressive concern troll (ala Peter Daou and the Rush Limbaugh saga), guess no longer:
Actually, no, petunia. Romney wasn't trying to recruit more women. It was pushed upon him, and then he let it drop as soon as he could:
"I went to my staff, and I said, 'How come all the people for these jobs are all men?" Romney said. "We took a concerted effort to go out and find women who had backgrounds that could be qualified to become members of our cabinet."

"I went to a number of women's groups and said, 'Can you help us find folks,' and they brought us whole binders full of women," Romney added.

He said his administration had the highest number of women in top positions of any governor in the country.

That version is under fire by a coalition of women's groups known as MassGAP, which is affiliated with the Massachusetts Women's Political Caucus. The group compiled the names of female applicants before Romney came to office and offered them to both Romney and his Democratic opponent Shannon O'Brien.

"It didn't really have anything to do with Romney asking women to give him names," said Carolyn Jones, who was secretary of the Massachusetts Womens' Political Caucus during the time that Romney was governor.

MassGAP, which is non–partisan, issued a statement saying that while the Romney administration started with women comprising 42 percent of newly appointed positions, by 2006, that number had dropped to 25 percent.

"So when the spotlight was on him, sure he paid some lip service. But when no one was looking, those levels plummeted to 25 percent, below where they were in the previous governor's administration," said Jesse Mermell, a Democratic selectwoman in Brookline, Mass., who was the executive director of the Massachusetts Women's Political Caucus from 2004 to 2008. During that time the organization commissioned a report on women in government positions in the state.
In other words. He lied. Again. He didn't look for more women candidates. He was presented with a coordinate push by a nonpartisan group in Mass. to have more women in office, and he initially complied, then just let things fall by the wayside.
Not that our manic progressives care. For them, the only thing worse than Republicans are Democrats, and whenever Democrats have a successful line of attack, they collapse in fits of apoplexy and whine about decorum. There's a special place in the insane asylum for people who think the route to progressive goals involves kneecapping Democrats and fluffing Republicans every step of the way.