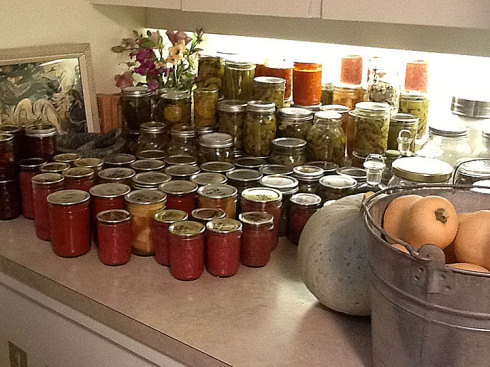 __
From faithful correspondent Marvel:
We've given up any pretense in the summer garden: I finally dismantled the plastic-covered cabana I had foolishly constructed around the last of the vigorous tomato plants…seems I do this every year, thinking I can squeeze out a few more vine-ripened beauties before our first Oregon frost. Never happens — the greenies'll red-up under a layer of newspaper, as is their wont.

The fall & winter raised beds are wrapped up snug under 6-mil plastic — there's plenty of kale & beets & spinach & lettuce waiting for us there. The summer garden's spending quieter times in jars, crispers, freezers and tucked-away cold pantries. All's well.
***********
Here in New England, I have to say that our cool, rainy spring and sullen overcast summer made for great flowerbeds but crummy provisioning. The tomato plants that survived an attack of early blight never really flourished, and the half-dozen pots of basil went directly from spindly transplants to seed. Even the professional farmers weren't having much luck this year (not that I ever managed to get to the new Sunday-morning farmers' market… ) So despite the unseasonable warmth — it was almost 80 degrees this Saturday — the killing frost during the first weekend of October reduced my final harvest to a dozen or so undersized green Cherokee Purples and Steak Sandwich Hybrids lined up on the kitchen windowsill to ripen.
How are things looking in your gardens? Anybody want to brag on their own homemade preserves, or got tips to share for canning and keeping? Any of our warm-climate Juicers putting in winter crops?