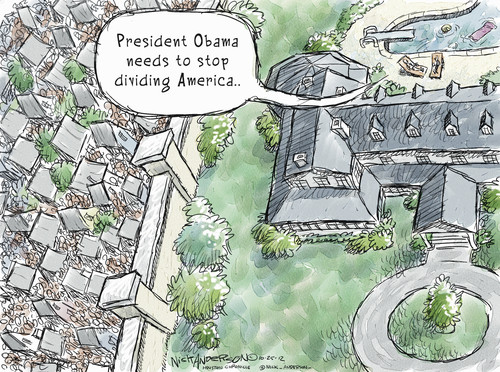 (Nick Anderson via GoComics.com)
__
Couple positive pieces, to finish up the week. In case you haven't gotten around to it yet, here's the link to Doug Brinkley's Rolling Stone cover interview with President Obama:
… Barack Obama can no longer preach the bright 2008 certitudes of "Hope and Change." He has a record to defend this time around. And, considering the lousy hand he was dealt by George W. Bush and an obstructionist Congress, his record of achievement, from universal health care to equal pay for women, is astonishingly solid. His excessive caution is a survival trait; at a time when the ripple and fury provoked by one off-key quip can derail a campaign for days, self-editing is the price a virtuoso must pay to go the distance in the age of YouTube.

Viewed through the lens of history, Obama represents a new type of 21st-century politician: the Progressive Firewall. Obama, simply put, is the curator-in-chief of the New Deal, the Fair Deal, the New Frontier and the Great Society. When he talks about continued subsidies for Big Bird or contraceptives for Sandra Fluke, he is the inheritor of the Progressive movement's agenda, the last line of defense that prevents America's hard-won social contract from being defunded into oblivion…

If Obama wins re-election, his domestic agenda will be anchored around a guarantee to all Americans that civil rights, Social Security, Medicare, Medicaid, affordable health care, public education, clean air and water, and a woman's right to choose will be protected, no matter how poorly the economy performs. Obama has grappled with two of the last puzzle pieces of the Progressive agenda – health care and gay rights – with success. If he is re-elected in November and makes his health care program permanent, it will take root in the history books as a seminal achievement. If he loses, Romney and Ryan will crush his initiatives without remorse…
And here's the transcript of Tuesday's Des Moines Register interview, which is just about impossible to excerpt fairly:
Q: One question — as you watch voters here and just everyday interactions with people that are so undecided, so fearful of either choice — I found people becoming even more ambivalent and even voters making statements such as it really doesn't matter who's President anyway because of the problems in Congress and really that's what's going on — what would you say to a statement that somebody was saying, it doesn't really matter who should be President?

THE PRESIDENT: Well, what I'd say is that it will matter to millions of Americans who may or may not have health care. It will matter to millions of seniors who maybe — or soon-to-be seniors who may be faced with the prospect of a voucher system for Medicare.

It will matter to young people all across the country who were born here, pledged allegiance to our flag, went to school here, and are Americans in every way except they don't have documentation and would continue to be at risk of deportation.

It will matter to middle-class families who are going to find themselves locked out of the discussion in terms of how we balance our budget, or at least reduce our deficit, facing the prospect that things like the tax credit we put in place for kids going to college, the earned income tax credit, a whole bunch of things that make sure working people stay out of poverty — that could all go away.

The consequences on just about every indicator out there would be enormous…..
***********
Apart from more political reading (and for those of us on the East Coast, keeping an eye on Tropical Storm Sandy), what's on the agenda for the day?