We had to run though a gauntlet of anti-Obama sign wavers to get to our cow pasture library polling place. There was this dude: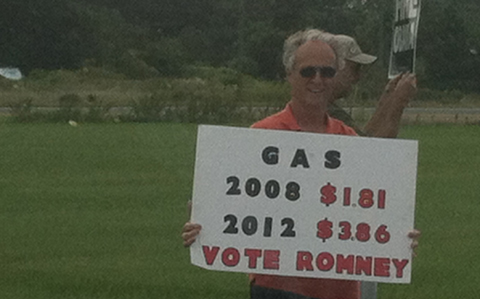 And this dude: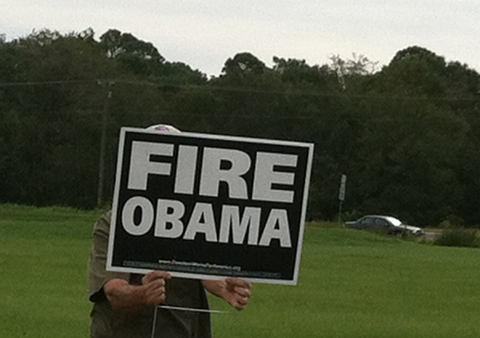 Plus there was a scrum of elderly ladies with homemade signs bearing slogans like "Women for Romney" and "Outsource Obama." My husband waved (he's a total DFH — he was just goofing with them), and they all started huzzahing and waving the signs harder, so I gave them the thumbs-down (couldn't help myself).
One old snowbird (I can spot 'em a mile away) yelled, "GO HOME!" at me. I thought, "Go home yourself, lady. My fucking GREAT-GREAT GRANDFATHER was born in Florida." But I don't really mean that; if it weren't for the snowbirds, Florida would be Alabama with a longer coast line.
Anyhoo, it's impossible to get a read on anything from one visit to one polling station, but there was definitely a "let's put the WHITE back in White House" vibe there and a pretty long line that was 90% age 60 and up and white. I stand by the prediction I made the other day: President Obama will lose Florida this time around but win the election in a nail-biter.
Just after hubby and I got home, two women from OFA stopped by on their GOTV rounds. I talked to them about what I'd seen at the polling station, and we all agreed this would be a tough year, but they said the enthusiasm they've met from fellow Dems has been encouraging. I'll be knocking on doors with them next weekend.