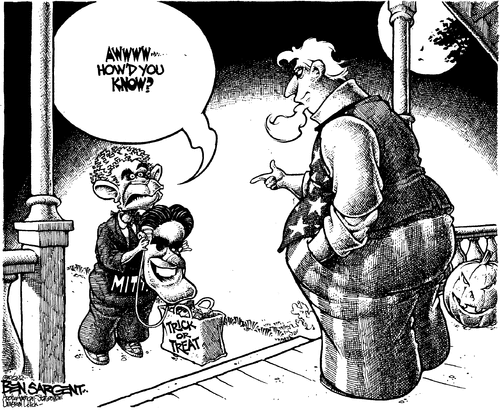 (Ben Sargent via GoComics.com)
__
Here's hoping that Frankenstorm Sandy, if she must live up to her publicity, at least has the decency to move along expeditiously. An acquaintance was predicting that if her town officially cancels trick-or-treating for the second year in a row, parents are going to be very very very displeased with the local officials….
But there is a thread of a thin silver lining, according to NYMag:
…Mitt Romney — who was scheduled to do three appearances in Virginia on Sunday — has been re-routed to Ohio. President Obama is planning on leaving D.C. for Florida early on Sunday, well before the brunt of the storm is expected to hit Washington. Politics might well take a back seat to the storm for the next few days, with many television stations expected to bump political ads for more live coverage of Sandy's approach and impact.
How's everyone's storm preps / Halloween party planning moving along?
(Keep in mind, those of you outside the Sandy zone, sooner or later there will be a hurricane or a tornado or a tsunami or a volcano eruption or a plague of boiling frogs in your neighborhood, and the Juicer community has long memories for mockery.)