And the dumbest person on the internet tonight is Rick Sanchez, stupid enough to be fired from CNN, but just stupid enough to be hired as a Fox News contributor:

Yes, I seriously hope these 80 families don't become dependent on FEMA, after all, they have their neighbors: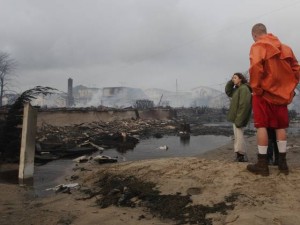 A huge fire destroyed 80 to 100 houses in a flooded beachfront neighborhood Tuesday, forcing firefighters to undertake daring rescues and injuring three people.

More than 190 firefighters contained the blaze but were still putting out some pockets of fire more than nine hours after it erupted.

As daylight broke, neighbors walked around aimlessly through their smoke-filled Breezy Point neighborhood, which sits on the Rockaway peninsula jutting into the Atlantic Ocean. Electrical wires dangled within feet of the street.
That's right, Ricky. Right now, our chief concern is a culture of dependency on FEMA. Because, as you know, since once in several lifetime storms happen so frequently (like, once every several lifetimes), this is a major issue. Instead, we should cherish our reliance on our neighbors. Except for when all 80 of their houses burn down, too. But seriously. My neighbors have bulldozers, can fix downed power lines, replace damaged water mains, pump water out of subway tunnels. Who here doesn't have neighbors like that?
I confronted him, and he is now babbling about how "Angel Flights" after Hurricane Andrew were the salvation.
Neighbors can help out, but they can't replace FEMA or the massive might of the government. I find it so depressing that an alleged journalist would even try to equivocate the two, while using right wing frames about the culture of dependency (ON FEMA, OF ALL FUCKING THINGS. THE DAY AFTER THIS DISASTER.) that I just want to cry myself to sleep.