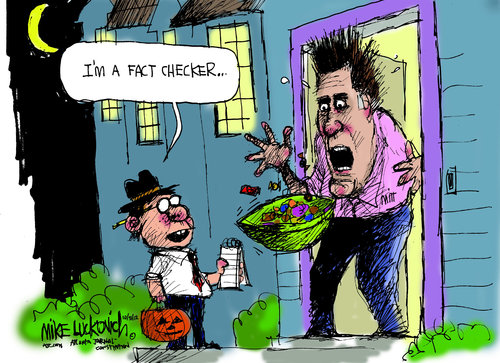 (Mike Luckovich via GoComics.com)
__
Or should that be "cowardly chickenshits"? In any case, your modern Republicans…
The Milwaukee Journal-Sentinel reports that the vulture capitalists who bankrolled those 'VOTER FRAUD IS A FELONY' billboards have been outed:
Stephen Einhorn – a Wisconsin venture capital fund manager and major GOP donor – disclosed Monday that he and his wife, Nancy, paid for dozens of anonymous billboards in and around Milwaukee and two Ohio cities warning residents of the penalties for committing voter fraud. Democrats and civil rights groups complained that the signs – which were taken down last week – were concentrated in minority neighborhoods and intended to suppress the election turnout…

Scot Ross, executive director of One Wisconsin Now, issued a statement Monday raising several questions for the Einhorns.

"Perhaps their Chicago public relations firm could answer why the Einhorns only felt it was necessary to target legal voters in minority communities, and why they didn't feel the need to do this 'public service' throughout communities across Wisconsin where a majority of the residents are white," Ross asked in his email. "Or put their name on it, rather than hiding behind the cowardly veil of anonymity."

Last week, conservative talk show host Charlie Sykes posted an item on his blog reporting on an interview with the head of the then-anonymous family foundation behind the billboards.

Sykes said the foundation chief was given the option of disclosing his family's identity or taking down the ads. After initially considering releasing the family's name, Sykes wrote, the foundation's leader opted to pull the billboards because he was "reluctant to put his children and grandchildren at any risk."
The Washington Post reports that Virginia Senate candidate Jason Flanery, of text-spammer ccAdvertising, seems to be up to his old tricks:
RICHMOND — A week before Election Day, Democrats have taken legal action to try to stop thousands of unsolicited text messages encouraging people in Northern Virginia to vote against their candidates.

A lawyer for the Democratic Party of Virginia wrote to ­ccAdvertising, a political phone and text-messaging vendor with a history of sending unsolicited messages, whose chief operating officer, Republican Jason Flanary, is running for Senate in Fairfax County. And a local Democratic activist, Ruth Miller, filed a lawsuit in Fairfax County General District Court on Monday.

Others who received texts have contacted the office of Attorney General Ken Cuccinelli II (R), the Virginia Department of Agriculture and Consumer Services, and the Federal Communications Commission…

FreeEats, the parent company of ccAdvertising, has been fined for similar conduct in North Dakota, according to news reports. Americans in Contact political action committee, which lists Flanary as executive director, has been tied to unsolicited messages in other states, including North Carolina, Illinois and Pennsylvania, according to published reports.

Both companies have given in-kind services to Flanary's campaign, according to the Virginia Public Access Project, a nonpartisan tracker of money in politics. Many other Republicans in Virginia also employ ccAdvertising….
And, via Paul Constant, ThinkProgress reports that the Romney campagain has asked Donald Trump to campagain for his (no)soulmate:
… Trump will be doing robo-calls in Ohio, North Carolina, Wisconsin, and Florida — crucial battleground states. The campaign also reportedly asked him to do campaign stops, which may conflict with the taping of his show, "Celebrity Apprentice." Romney has embraced Trump's support in spite of his widely ridiculed belief that the president was secretly born abroad… The billionaire also scoffed at the devastating storm that submerged New York and New Jersey, saying, "Hurricane is good luck for Obama again – he will buy the election by handing out billions of dollars. Not only giving out money, but Obama will be seen today standing in water and rain like he is a real president —don't fall for it."
How are the mischievious little ghouls, and also the trick-or-treaters, doing in your neighborhoods tonight?