This morning, Bernard attempted the valiant intellectual feat of trying to get inside the mind of one W. Mitt Romney.  The question:  what lies behind his pre-Sandy hate on FEMA?  His answer:
When Romney talked about killing FEMA it wasn't because he really thought the states could or should do it, nor did he think the private sector could or should. When Romney went after FEMA in the primary debates, it was all about letting GOP voters know that he sees the Black Helicopters too.
That's plausible, certainly, and I've no doubt that when you're betting on Romney's combination of cynicism and opportunism, you'll never lose taking the over.  But at the same time, I think this particular stance was overdetermined — and that it's worse, not better, that Romney's views on federal involvement in any social good derive even in part  from remnants of genuine belief.
Here I have just a hint of (one remove) personal insight to share.  Y'all recall that among the Romney "home states," Mitt and his family did in fact live in Massachusetts for a lot of years.  Which means he had friends here, people who knew and liked him before ambition consumed his soul.  As it happened, I had dinner with a couple of those folks last week — people who had  met him in the context of (non-sectarian) social action and who had become personal friends over the years the they knew each other, beginning well before Romney embarked on his political career.
My friends barely recognizes their friend any more, which saddens them, but in talking about Mitt's charitable interests, our dinner companions emphasized two things:  the first is that Romney does recognize that there are people in need, those for whom a helping hand is both needed and likely to be effective.
The second: Romney possessed then, and presumably does now, an enduring commitment to the Mormon church — not just to the formal tenets of the faith, but to the institution as it saw itself, a kind of corporate entity integrated into all facets of its members' lives.  That's the context in which Mitt had no problem with the idea of a group responsibility to ensure individuals' well-being-in-extremis.  But such social service properly takes place (in my understanding of my friend's gloss on Mitt's views) within the private sphere, in the settings that Mormons or others find themselves.  The idea of state intervention was not just unnecessary; it was an unwarranted intrusion.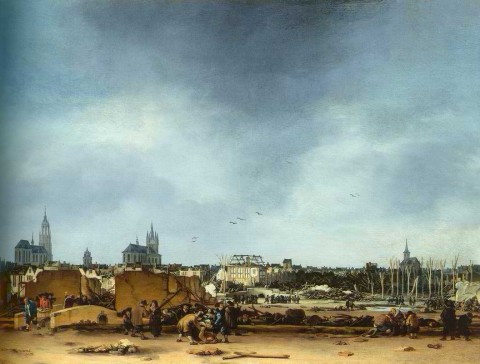 The virtue of such an approach is obvious, I think:  within specific communities, there are real, kept, mutual guarantees.  Its defects are equally plain:  for one, the price you pay for such common cause is that the gentile — and we're all gentiles to somebody — is not part of the deal; and for another, there's the problem of scale.  In a country of 310  million-plus folks of all kinds of origins and destinations, the moral and practical implications of that kind of approach are catastrophic.  As Sandy illustrates with brutal clarity, if your approach to the problems of society within the nation we actually inhabit is a canned goods drive…well, were he actually in charge, the consequences that would flow from what at least were once Romney's beliefs would be pretty certainly disastrous.
And hence the real problem, IMHO.  Throughout this election season, plenty of folks who should know better have floated the notion that the GOP candidate seen on the stump is a fake Mitt — thus enabling the fantasy of some pragmatic, moderate Mitt who would both seek and be able to govern from the sensible center.  I think that's pretty certainly hogwash on the face of it; the running mate choice, if nothing else, is the one actual Presidential decision a nominee gets to make before the election, and I think Mitt's shows the direction of a putative Romney presidency pretty clearly.
But even if there still survives some real Mitt behind the facades we've seen to date, here's the rub:  to the extent that the archaeology of friendship exposes that person, we find a man who does not accept the implications of what it means to live in a heterogeneous nation and a pluralistic society.
So, that's what you have to ask yourself: is it better if Mitt didn't care what he said about FEMA before it became inconvenient to have uttered his wingnut-bait?  Or should we prefer that he actually believed in the proposition?
To me, it's the second option that truly terrifies.YMMV.
Image:  Egbert van der Poel, View of Delft after the Explosion of 1654,  1654.