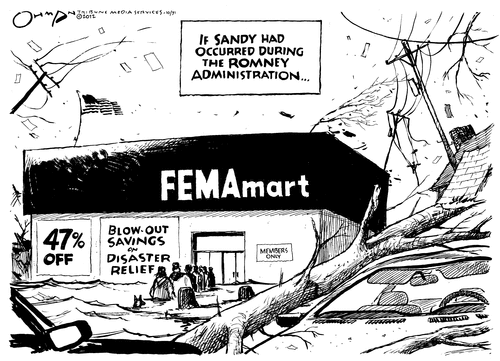 (Jack Ohman via GoComics.com)
__
I had to go back to check the header "with apologies to The Onion" — parodying a Romney ad is just impossible at this point. Steve Stromberg at the Washington Post "Summing Up the Romney Campaign":
… Mitt Romney's presidential campaign on Thursday released a new ad that GOP advisers say epitomizes his years of running for president.

The spot depicts the former Massachusetts governor standing in front of a fluttering U.S. flag and repeating the word "America" for 25 seconds, before concluding with, "Not Obama."

"The ad we've cut represents the sort of detailed, policy-rich alternative to President Obama that Governor Romney has offered this whole campaign," Romney political adviser Russ Schriefer said…

Team Romney says it will run its new ad in swing states and, in a surprise move that is in no way a last-minute campaign gimmick, in Democrat-leaning Minnesota, Michigan and Pennsylvania, where Romney-aligned groups have already been buying airtime.

"It's all about momentum," said Charlie Spies, treasurer of pro-Romney super PAC Restore Our Future. "Mitt Romney is a perpetual motion machine," Spies continued. "Did I say machine? I meant human. Mitt Romney is definitely a human. He's a perpetual-motion Homo sapien. Actually, can you edit that to just read, 'sapien'? Thanks."…
***********
Apart from GOTV efforts, what's on the agenda for the start of the weekend?