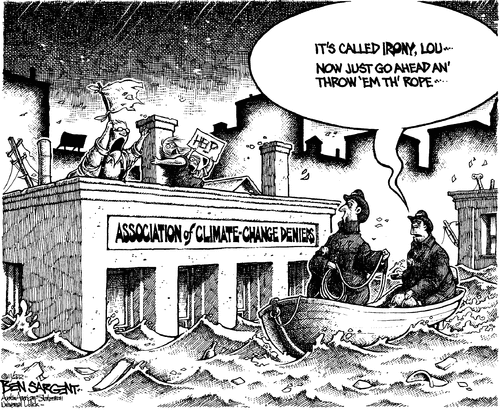 (Ben Sargent via GoComics.com)
__
Wise words, as always, from Mr. Charles P. Pierce at Esquire:
In an election year, the elite American political correspondent lives in a wilderness of the mind made up only of turning points. Tonight's primary. The next primary. Today's poll. The next poll. The convention, when every candidate has to give The Speech of His/Her Life. Tonight's debate. The next debate. The spin function of the modern American political party is designed solely to lead the elite American political correspondent deeper and deeper into this wilderness until all the turning points are strange, concocted shadows that make the wary traveller jump, like broken trees in the forest at night that look like witch's fingers against the rising moon. Generally, the conservative spin machine is better at doing this. Its woods are darker and deeper, and its concocted shadows are generally more interesting, which is why they frighten the correspondent more profoundly, and generally get a longer run in the mainstream media.

The real cognitive dissonance comes when an actual, real-world turning point occurs — a hurricane, say, ravages the nation's major population center, obliterating the distinction between the president's being president and the president's being a candidate to the point where one of the president's most implacable opponents is hugging him out on the tarmac. Confronted by this obvious change in the prevailing dynamic of the campaign, and the way in which the actual turning point shines a light on all the phantom turning points, revealing the scary monsters in the wood to be trees and rocks and lines of shivery undergrowth, the elite political correspondent gets briefly disoriented and wonders how things could look so strange in the light of a new day….