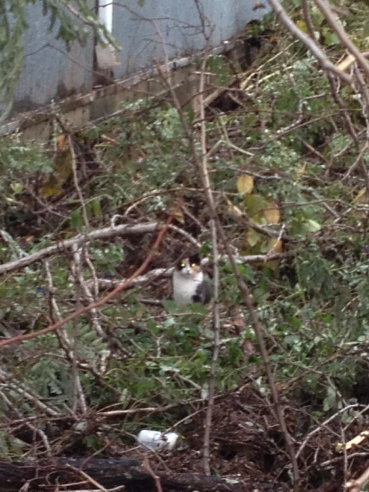 __
From commentor La Caterina:
Our 50+ cat colony in the Brooklyn Navy Yard mostly survived the storm, but many of their feeding stations were destroyed, and we lost a fair amount of stored food. We are afraid some of the missing cats were poisoned by toxic spills, but we are hopeful they will reappear soon. It's been a tough year for the colony — we've trapped, neutered and returned at least 15 kittens produced by intact cats that slipped into the population. Due to raccoon activity we can only feed a day's worth of food at a time — that means visiting each of the 8 feeding stations every day.

One of our primary caretakers is out of commission because her family lost their home in Staten Island to flooding. Another rescuer in Staten Island who helps us with holding and post-surgery recovery has extensive damage and has evacuated. For the last three years we've purchased all the food and supplies for the colony ourselves, with occasional donations from friends. We're asking for donations now to replace our feeders, restock food, build some new feeding platforms and shelters and to set up a nonprofit (Waterfront Cats) so that we can solicit corporate donations and grants in the future.

We're inviting NYC cat lovers to join us this Saturday at the Navy Yard for a post-Sandy clean up. Wear warm sturdy clothes and work boots or waders. We can provide transportation by car for a few volunteers each from Manhattan, Brooklyn and possibly Queens.

E-mail Suprina at Suprina11 (at) verizon.net or Caterina at cisobe (at) bsls.org
La Caterina has a PayPal account now. If you would like to make a donation, send me an email at AnneLaurie (at) Verizon.net (or click on my name in the right-hand column) and I'll send you her Paypal address.