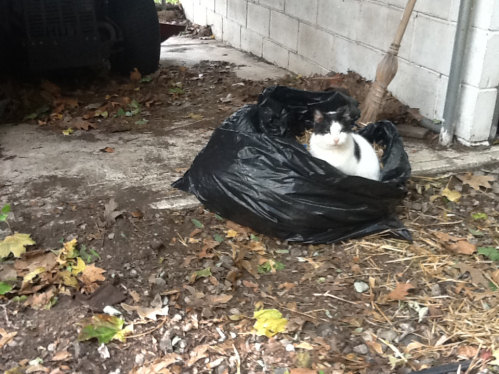 Samantha in Maryland has her forever family! Update from commentor Mystical Chick:
Tommy took such great care of Samantha, getting her all cleaned up and spiffy and delivered her to my very door in a new carrier with food, toys and a bed. She is a darling little thing – still kind of skittish (hiding under the bed at present) but has come out to get some love and use the litter box. I'm hoping for a peaceful alliance between Sammy and my cat Sophia and dog Brogan when we all get together. Right now, those two are *very curious* about the newcomer!

I'm still not sure what possessed me to claim her other than the hand of the Universe (and as you can see by my signature, I'm all kinds of woo-woo) so I trust that it was for a reason and I'm very thankful for the kindness and generosity of Tommy and his wife. Truly compassionate people (and clearly Democrats!).
And news about the Brooklyn feral colony from La Caterina, Saturday afternoon:
Ballon Juicers are, as always, the best. We've received contributions for the kitty cleanup/restocking in the amount of $300 so far, and one volunteer, commenter AMD, who's plunged right in there with us. We've been here at the Navy Yard since around 10:30, and have buried oily sludge, moved feeding stations and installed winter shelters, and replaced Kitteh food in serious size bags.

The biggest station, at the Annex, is being cleaned, refurbished and winter shelters are being set out.

The donations will feed and house our feline friends well into the winter, and we are very grateful!