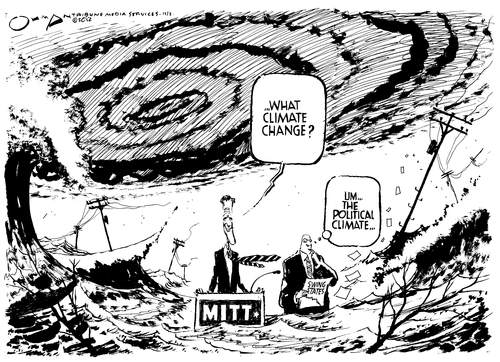 (Jack Ohman via GoComics.com)
__
__
Professor Krugman, perceptive as always:
As Sandy barreled toward New Jersey, there were hopeful mutters on the right to the effect that it might become President Obama's Katrina, with voters blaming him for the damage, and that this might matter on Tuesday. Sorry, guys: polls show overwhelming approval for Mr. Obama's handling of the storm, and a significant rise in his overall favorability ratings.

And he deserves the bump. For the response to Sandy, like the success of the auto bailout, is a demonstration that Mr. Obama's philosophy of government — which holds that the government can and should provide crucial aid in times of crisis — works. And conversely, the contrast between Sandy and Katrina demonstrates that leaders who hold government in contempt cannot provide that aid when it is needed…

Like Mr. Clinton, President Obama restored FEMA's professionalism, effectiveness, and reputation. But would Mitt Romney destroy the agency again? Yes, he would. As everyone now knows — despite the Romney campaign's efforts to Etch A Sketch the issue away — during the primary Mr. Romney used language almost identical to Mr. Allbaugh's, declaring that disaster relief should be turned back to the states and to the private sector.
Greg Sargent, at the Washington Post, as "Mitt Romney insults the American electorate one last time":
… The important thing to remember here is that the GOP argument for a Romney victory rests explicitly on the hope that those who turned out to vote for Obama last time won't be quite as engaged this time around. Republicans are hoping the electorate is not as diverse as it was in 2008, and they are arguing that the GOP base's enthusiasm is much higher than that of core Dem constituencies. The Romney camp seems to think it will help whip GOP base voters into a frenzy — and perhaps boost turnout — if Romney casts the way Obama is urging Democratic base voters to get more involved in the process as something sininster and threatening. This is beyond idiotic; it is insulting to people's intelligence.

The Post editorial board, in a widely cited piece, has claimed that the one constant about the Romney campaign has been that it is driven by "contempt for the electorate." To make this case, the editorial cites Romney's nonstop flip flops, his evasions about his own proposals, his refusal to share basic information about his finances and bundlers, and his monumental Jeep falsehood and all his other big lies. It's fitting that Romney's closing argument rests heavily on one last sustained expression of that contempt for the electorate — one focused squarely on a call for more engagement in the political process, i.e., on something that is fundamental to democracy itself.
Actually, I believe Mr. Sargent may be unduly optimistic; there is, at a minimum, another good 48 hours for Willard to insult us all before the (please Goddess!) overwhelming electoral victory marking President Obama's second term distracts the Koch-compliant media from the current figurehead of the GOP Revanchist Party…
Finally, via Paul Constant, a reminder — even Republicans who had to try and work with Romney during his one stint as an elected official found him frustratingly disconnected and self-involved: