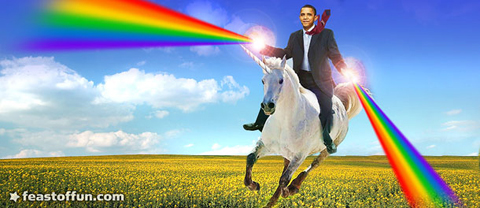 I thought witnessing the Great PUMA Tantrum of Aught-Eight in real time was fun, but it turns out that was just the bagged crudité tray before the grand schadenfreude banquet that is the Colossal Wingnut Bed-Shitting of 2012. Good times!
But among all the very many reasons to be happy today, one of my favorite things is the stunning progress we've made on LGBT equality, symbolized by a few of last night's election results. NOM has a sad today, and that's a Good Thing. They used to crow about their "36-0" record, and to give the devil their due, they were remarkably successful in advancing the cause of bigotry and defacing various state constitutions with anti-gay graffiti.
That streak is broken. Marriage equality won in Maine, Maryland and Minnesota (and maybe Washington state too). Tammy Baldwin is the first openly gay senator elected in US history.
This particular moral arc of the universe has been bending toward justice for a long time, thanks to the brave and tireless efforts of millions of people over decades. And although it has bent more sharply recently, we still have a long way to go.
But is there any doubt that having a sitting president come out in favor of marriage equality made a difference? Is there any doubt that President Obama's successful drive to repeal Don't Ask Don't Tell changed things?
Thank you, President Barack Obama. Well done, sir.
[X-posted at
Rumproast
]