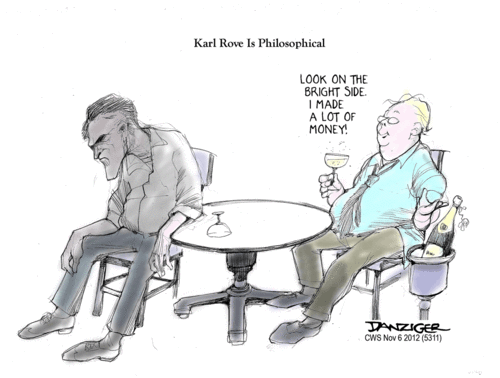 (Jeff Danziger's website)
__
__
For anybody still worried about hardcore rightwinger "reprisals" — or who just needs a little more schadenfreudelicious entertainment — do not miss Paul Constant's "When Obama Won, the South Shook Itself Awake, Tried to Rise Again, and Embarrassed the Hell Out of Itself". The voice of the amateur videographic (at 1:30) "It's majority white people, that's all I'm saying about that" is entirely awesome.
Some of the commentors in Bernard's thread were discussing the proper epithet for House Majority Leader Eric Cantor, to go with Orange John Boehner and Mitch-the-Bitch O'Connell. "Grackle" was a strong early contender…
And speaking of ironic catchphrases reminds me: It's probably time to update the Lexicon, and preserve some of the election-year gems that may not achieve the general cultural status of "I Like Ike" or "Ma, Ma, Where's My Pa?" I'll be putting up a dedicated post with some possibilities in the next day or two, but if there's anything you think should be included — or, for that matter, that you'd like explained — leave me a comment, okay?