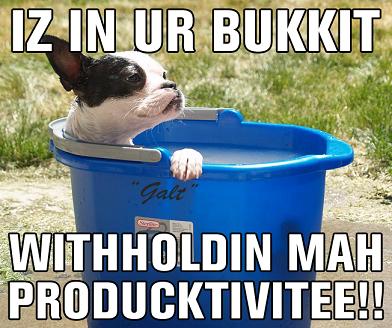 __
I knew that this is now A Thing, because the acquaintance-since-college who inspired the phrase "squid- cloud of butthurt" around the time of President Obama's first election announced late last night that they & spouse are absolutely going Galt, this time for real no backsies, and that couple has always conscientiously refused to have a thought that was less than third-hand. But the epical, category-defining Squid-Cloud of Butthurt frontpaged by LGM's Robert Farley is one very special snowflake indeed:
… [T]oday starts a new course for my life. I've soured on electoral politics given what happened last night. I believe now the best course of action is outright revolt. What do I mean by that?…

…I'm choosing another rather unique path; a personal boycott, if you will. Starting early this morning, I am going to un-friend every single individual on Facebook who voted for Obama, or I even suspect may have Democrat leanings. I will do the same in person. All family and friends, even close family and friends, who I know to be Democrats are hereby dead to me. I vow never to speak to them again for the rest of my life, or have any communications with them. They are in short, the enemies of liberty. They deserve nothing less than hatred and utter contempt

I strongly urge all other libertarians to do the same. Are you married to someone who voted for Obama, have a girlfriend who voted 'O'. Divorce them. Break up with them without haste. Vow not to attend family functions, Thanksgiving dinner or Christmas for example, if there will be any family members in attendance who are Democrats…

If I meet a Democrat in my life from here on out, I will shun them immediately. I will spit on the ground in front of them, being careful not to spit in their general direction so that they can't charge me with some stupid little nuisance law. Then I'll tell them in no un-certain terms: "I do not associate with Democrats. You all are communist pigs, and I have nothing but utter disgust for you. Sir/Madam, you are scum of the earth." Then I'll turn and walk the other way.

Buttons. Boy, you can have a lot of fun with this. I plan to make up a bunch of buttons, and wear them around town, sayings like "Democrats are Communist Pigs," or "Welfare moochers steal from hard-working Americans," "Only Nazis support Seat Belt laws" or "No Smoking Ban: Nanny-Staters go Fuck Yourselves."…

For now, off to my first assignment: Telling all my friends and family who voted for Obama to "fuck off, don't ever speak to me again you slimeball mother fuckers." Wish me luck!
(I seem to remember at least one simulacra of this guy in the huckster room or the late-night room parties at every comix/StarTrek/sf-fantasy convention I attended between the early 1970s and the mid-1990s, but perhaps that was before The Internet Changed Everything.)
Anyways… Eric Dondero is a very angry man! Perhaps someone should introduce him to Shelly Dankert? Surely such a meeting of freethinking intellects would be magic, in a hyperrationalist way — the greatest coupling of slans since the Roark/Taggert courtship…
And "noted bloggist B-Skillet over at the Christian Men's Defense Network" could throw the batchelor party! (Who says Gawker is nothing but hipster-friendly celebrity gossip and kitten videos?)