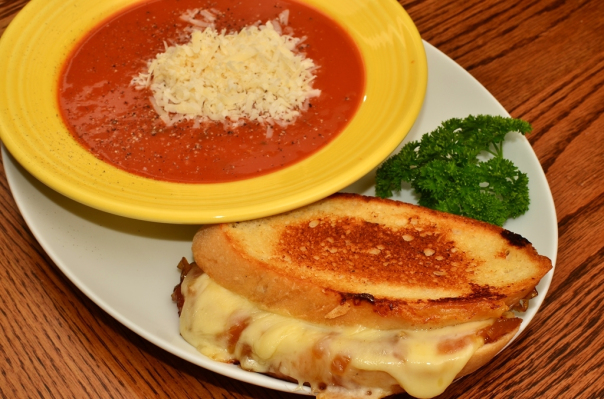 __
From our Food Goddess, TaMara:
Soooo…anything happening this week I should know about? :-)

It's been a flurry of activity here. Saw Pitch Perfect and really liked it. I roasted my first turkey of the season, it turned out pretty good, I may post about that later this weekend. A friend had knee surgery so I went and did a bit of gardening for her. It was a beautiful, warm day to be in the garden and she has a fabulous yard. But all good things must come to an end, and the weather is about to turn and be quite chilly. This put me in the mood for tomato soup and grilled cheese sandwiches, so I dug around and found two of my favorite tomato soup recipes that I haven't made in a while, mostly because I'm been making batches of spinach tomato soup. I thought it was time to add some variety. Both of tonight's recipes are almost as quick as opening up a can of soup, but much more satisfying.

First up is the Hearty Tomato Soup and Totally Awesome Grilled Cheese (recipe here). I use roasted tomatoes when I can for a more complex flavor. The featured recipe of Tomato Bell Pepper Soup was originally part of a menu that included Orange Glazed Salmon, but it's just as good with a nice sandwich for a quick dinner.

How about you, when the weather turns cold, what do you start to crave? Do you make your own tomato soup and how do you jazz it up? What are your favorite, go-to soups on a cold fall day?

The photo above is JeffreyW making the simplest lunch look delicious.

And finally, tonight's featured recipe:

Tomato & Red Bell Pepper Soup:

4 large, ripe tomatoes, halved (or equivalent canned diced tomatoes)
1 red onion, peeled quartered
1 large red bell pepper, halved & seeded
¼ cup olive oil
½ tsp salt
¼ tsp pepper
1 tsp crushed garlic
2 cups chicken broth
1 tablespoon apple cider vinegar
1 tablespoon sugar
½ cup heavy cream
2 tbsp finely chopped fresh basil leaves
4 slices bacon, cooked & crumbled
grilling basket & saucepan

Toss tomatoes, onions & bell pepper with oil, season with salt & pepper. Place vegetables in grilling basket, cut side down and grill for 6 to 8 minutes. Add vegetables, garlic, chicken broth, vinegar, sugar to blender and puree. Pour into saucepan, bring to a low boil, stirring constantly, add cream & basil, reduce heat and simmer for 15 minutes, stirring occasionally. Garnish with bacon when served.