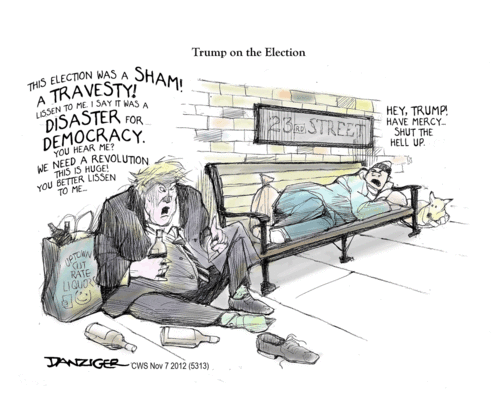 (Jeff Danziger's website)
Links for a bunch of worthy stories that I didn't get to use in the craziness of the last couple weeks…
Harold Meyerson, at the Washington Post last week, on the GOP's "King Canute strategy":
… Accommodation with diversity and modernity, however, is simply not part of the Republican DNA. Today's Republican Party has largely cornered the market on religious fundamentalists, even as the number of GOP scientists has dwindled (a 2009 Pew poll of scientists found that just 6 percent self-identified as Republicans, while 55 percent said they were Democrats). Many of the largest Republican funders come from economic sectors hardly distinguished by significant productivity increases or their contributions to mass prosperity (casino gambling, Wall Street), while Silicon Valley remains more Democratic turf. (By the way, all those messages Republican CEOs have been sending their employees , predicting layoffs should Obama be reelected? Have any of them promised raises if Romney wins? Just askin'.)

Two Americas are facing off in next week's election. By their makeup, the Democrats are bound to move, if haltingly, into the future, while the Republicans parade proudly into the pre-New Deal past — some of it mythic, lots of it ugly. The differences could not be clearer.
The WaPo's Melinda Hennenberger — usually a reliable apologist for all things conservative — on "Why Romney Lost Women":
… Both presidential candidates were branded as inveterate fibbers by their adversaries, of course… Yet only Romney's supporters inferred that they trusted him to govern because they didn't believe everything he'd been selling them as a candidate. Just as he asked conservatives to believe that the guy Bill Clinton called "Moderate Mitt," was the poser, so, too, did he ask moderates to rest assured that he wasn't as "severely conservative" as he was pretending to be long after securing the nomination….

If this election had really been all about women, we'd have surely talked a lot more about child and elder care, and education. But though the pandering wasn't what it might have been from either side, you can't win by hoping your own folks know you were winking when you made some of those promises.
Mooted, but still interesting, scholarly piece by Jack Balkin at the Atlantic on "Why the GOP should fear a Romney Presidency":
… The predicament of a Romney presidency is that he may make George W. Bush look good by comparison. During most of Bush's eight years in office, the Republican Party was united and willing to follow his lead. Romney will not be so lucky. The party he heads has become so rigid, radical, and unrealistic that, despite his best efforts, he may end up as the last of the Reagan-era Republican leaders — a disjunctive president like John Quincy Adams, James Buchanan, Herbert Hoover, or Jimmy Carter…

The next Jimmy Carter will be a Republican president — a Republican who, due to circumstances beyond his control, unwittingly presides over the dissolution of the Reagan coalition. If Obama is reelected, we might decide in hindsight that George W. Bush best fits that description. But if Obama loses, the president who finally unravels Reaganism could turn out to be Mitt Romney.
Alex McGillis at TNR has already gone five-for-five on his predictions for how the GOP would explain a Romney loss, in "the Right's Coming Freak-Out".
And the "Six Most Paranoid Fears for Obama's Second Term", cataloged by SPLC's Booth Gunter, are a lot less quantifiable… but also more entertaining ("One thousand years of darkness!… hunted down like dogs!"), as long as you're not sharing a neighborhood with these loons.