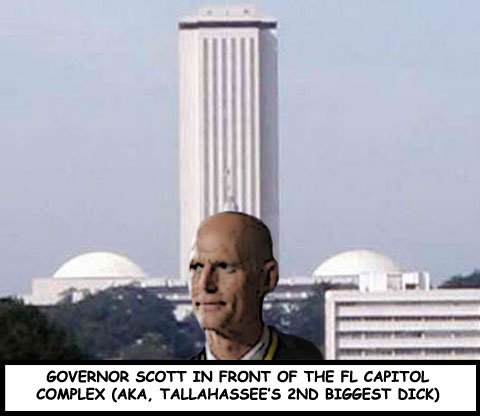 Comically obvious arch-villain Florida Governor Rick Scott doesn't understand why you people are so upset about waiting until one o'clock in the morning to cast a ballot and STILL having no official outcome five days later:
"Look, it was a close race. We want to make sure every vote gets counted. Every vote's important, so I think the secretary did the right thing," Scott said. "Here's what people should feel good about: We have a diligent and thorough process, and every vote's getting counted."
Here's what people should feel good about: Even if the Dems tap an Everglades python that has just swallowed a litter of puppies on live TV to run against Scott in 2014, Scott will lose. Here's what people should feel queasy about: The Florida Democratic Party is dumb enough to blow this opportunity.
Right now, the name being bandied about the most is former GOP Governor Charlie Crist, who got booted out of the Republican primary in favor of Marco Rubio when he ran for US Senate, then switched to independent to take Rubio on and got his ass kicked.
Crist wasn't an awful governor, and he's been a stand-up guy for President Obama — ever since Crist realized his former party had turned into a freak show, which just happened to coincide with its rejection of himself. I'm sure he'd be perfectly willing to morph into a Democrat to run against Scott. But in a state where disgust with Republicans is at its highest level in years, maybe we don't have to settle for a Blue Dog. This ain't Missouri.
Former Tampa Mayor Pam Iorio, who knows how to handle the clowns at Fox News, was one of the few Supervisors of Elections who didn't embarrass the state back in 2000. She was an excellent and popular mayor of a key Florida city.
Now she's speaking out on the still-unfolding 2012 voting debacle. Unlike Crist, Iorio actually is a Democrat. I know it's crazy, but I'm hoping the Florida Democratic Party will nominate a Democrat to take on Scott.
[X-posted at
Rumproast
]