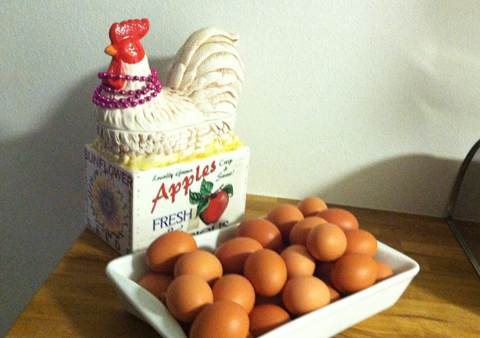 Thanks to my highly productive Reds and Australorps, I will have no egg shortage to contend with during this year's eggnog season. Maybe it's too soon to talk about eggnog — we haven't even had Thanksgiving in the US. Oh well.
I have what I consider a very fine eggnog recipe, which I post at Rumproast each year and am sharing below. It not only tastes good, it's deceptively strong and is highly effective for silencing tiresome wingnut relatives, dispatching the Sandman to whisk them to Dreamland in front of the television. That way the bakers don't have to hear the self-described makers bitching about the goddamned takers:
INGREDIENTS:
6 eggs, separated
1/2 cup sugar
1/2 cup Southern Comfort*
1/2 cup rum**
1/2 cup bourbon***
2 cups whipping cream
2 cups whole milk
Freshly grated nutmeg

DIRECTIONS:
Separate eggs and reserve whites in fridge in a separate container. In a large bowl, beat yolks until lemony, gradually adding sugar. Add the booze. Refrigerate mixture overnight.****

Next day, add milk to booze mixture. Beat egg whites until stiff peak stage. Separately beat whipping cream to the consistency of that nasty Cool Whip crap. Fold egg whites into booze mixture, then fold in whipped cream. Don't over-mix—leave it a little lumpy. Grate nutmeg over top and enjoy!

* As vile and hideous as Southern Comfort is (and no one despises it more than I do, having once yerked up great quantities of it all over a golf course during a teenage drinking binge), it is for some reason an essential ingredient in this recipe. I tried doubling the GOOD bourbon once and eliminating the SoCo, and it wasn't as good. Really.

** I generally use Appleton's, but last year I tried it with Kraken rum, which is just insanely good. In my opinion.

*** I usually use Maker's Mark or Knob Creek. Because I care.

**** We've omitted the refrigerate overnight step a time or two. If you've already had several cups of it made the proper way, you won't notice the difference. If you haven't you will. Funny how that works.
I haven't found a recipe to rival this one, but I am open-minded. Please feel free to share your all-time favorite eggnog recipe. Or talk about whatever.
[X-posted at
Rumproast
]