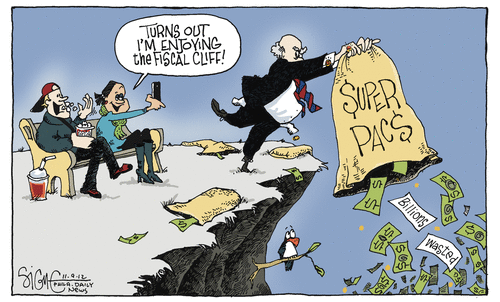 (Signe Wilkinson via GoComics.com)
__
Moar sweet GOP infighting and salty wingnut tears for supper!
Alex Pareene at Salon gleefully fisks a Weekly Standard writer's "call on the GOP to nominate someone its base will really love — like Richard Nixon":
… The headline is "Barack Obama and the Triumph of Identity Politics." "Identity politics" is a conservative term for "attracting the votes of women and minorities." (Mitt Romney's explicit plan to turn out as many white people as possible is usually not considered "identity politics" for reasons you can probably figure out on your own.)…
The NYTimes reports on the gnashing of teeth & rending of garments among the Ralph Reeds and Franklin Grahams:
Christian conservatives, for more than two decades a pivotal force in American politics, are grappling with Election Day results that repudiated their influence and suggested that the cultural tide — especially on gay issues — has shifted against them.

They are reeling not only from the loss of the presidency, but from what many of them see as a rejection of their agenda. They lost fights against same-sex marriage in all four states where it was on the ballot, and saw anti-abortion-rights Senate candidates defeated and two states vote to legalize marijuana for recreational use.

It is not as though they did not put up a fight; they went all out as never before: The Rev. Billy Graham dropped any pretense of nonpartisanship and all but endorsed Mitt Romney for president. Roman Catholic bishops denounced President Obama's policies as a threat to life, religious liberty and the traditional nuclear family. Ralph Reed's Faith and Freedom Coalition distributed more voter guides in churches and contacted more homes by mail and phone than ever before…
Where are the gullible white people snows of yesteryear?…
And my personal Villager bete noir, Kathleen 'Silk Magnolia' Parker, makes a strong bid in her campaign as the next-gen Peggy Noonan:
… The truth is, Romney was better than the GOP deserved. Party nitwits undermined him, and the self-righteous tried to bring him down. The nitwits are well-enough known at this point — those farthest-right social conservatives who couldn't find it in their hearts to keep their traps shut. No abortion for rape or incest? Sit down. Legitimate rape? Put on your clown suit and go play in the street.

Equally damaging were the primary leeches who embarrassed the party and wouldn't leave the stage. Nine-nine-nine, we're talking about you, Herman Cain. And Gov. Oops? You, too. And then there were Rick Santorum and Michele Bachmann, who never had a real shot at the nomination and certainly could never win a national election, yet they refused to surrender to the certain nominee.

Did they have a right to persist in their own fantasies? Sure. But not if they were serious about getting a Republican in the White House. Thus, for months and months, Romney had to spend his energy and, as important, his money to prevail in the primaries against opponents who had no chance and who ultimately hurt him. During that same precious time, Obama's campaign was busy pinpointing specific voters, practically learning the names of their dogs, and buying ads in niche markets…
Shorter Every Rightwinger and/or Media Village enabler: How dare That Black Man in Our White House campaign as though every vote had equal weight? Has he no respect for our hallowed history? Every Serious Person knows that those people's votes count for only three-fifths of a straight white well-to-do Christian man's vote!
*******
On that note, I'm out for the evening — got tickets to see Mary Black, because yes I too am a cliche. What's on the agenda for everybody else?