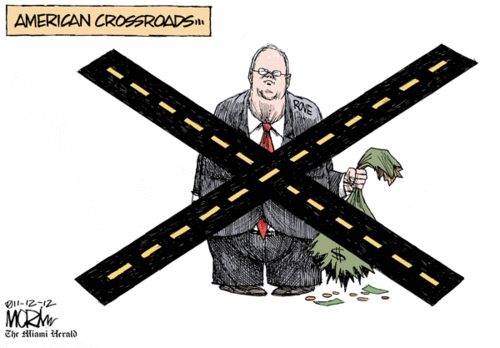 (Jim Morin via GoComics.com)
__
… probably. Unless something really delicious pops up, of course.
Doghouse Riley tells the usual suspects, "Buck Up. You're The Party Of Tradition. So Wait Two Months And Then Act Like Nothing Happened, The Way You Always Do.":
LEAVE us dispense with "Pulitzer" Parker first: the idea that Poor Mitt was driven too far right by the crazies in the primaries is, by now, an old man with a long beard. Not ten or eleven months old; four years and eleven months old. After 2007's Most Blatant Pandering Operation Ever Seen in American Politics almost got him the prize in spite of himself, and 2010's midterms, which proved once and for all time that the country is one big seething Teabag, was there really some expectation that Mitt Romney was going to be anything else this time? If moving toward the Even Less Hinged end of the Republican spectrum was such an awful idea, then Mitt Romney was twice an awful candidate. Similarly, if pointing out something this trite, at this late a date, constitutes Republican punditasting, then your party is even awfuller. I'll be happy to agree that the Republican primaries may've cost Mitt Romney the election. Except it was the 1980 primaries that did it.

Rubin, we need not mention, is eminently disposable, sorry that the Brilliant CEO's people let him down, and eager that we all know that the Obama campaign ran "really nasty ads in Spanish" which were apparently too shocking to translate and too numerous to need citation. Plus, there was a hurricane which lasted eight or nine days, and threw the challenger off so much more than the incumbent, who might've lost instantly had he been one-quarter as incompetent as the last Republican president. Whatever his name was.

[And, by the way, how many Republicans now complaining that Obama "unfairly looked good" after Sandy complained when George W. Bush finally crawled out from under his desk on 9/15, and posed with a bullhorn and a prop fireman? Answer: zero.]

Rubin is, or was, a Romney campaign stovepipe, merely, though she has some helpful advice for Paul Ryan there at the end, and, no, it's not "find another line of work". But George Eff Will, of course, is our leading right-wing intellectual…
Mr. Charles P. Pierce took off for a well-earned vacation leaving us with this happy thought:
… You apparently could convince this guy of anything. I'm surprised they haven't convinced him that he actually got elected. (Maybe they have by now, and he'll show up in morning clothes on the steps of the Capitol next January. Hilarious hi-jinx ensue!) Let me be the first to point this out: By the available, and continuously emerging evidence, Willard Romney was a dumber politician than Dan Quayle and Sarah Palin combined.
(Let's just say I fully expect the Secret Service to lock down Belmont, La Jolla, Lake Winnipesaukee, and possibly the SLC Temple precincts on Inauguration Day. For everybody's peace of mind.)
Finally, Billmon is a better person than most of us:
… I realize how easy it is to make fun of those people (our those people), but for me the images posted there call up — somewhat to my surprise — decidedly mixed emotions. Spite and sympathy, it seems, can co-exist, and even lay the groundwork for something that begins to resemble empathy.

It's an involuntary reflex, to be sure, after the bile, racism, and sheer deranged hatred those people have flung at us these past four years — not to mention their cocksure arrogance (up until about 10:00 pm Tuesday night) that "real" Americans were going to rise as one and send the Kenyan usurper packing…

I also know that they have been lied to, with ferocious intensity and relentless dedication, by the conservative propaganda machine and its political masters. If we must have demons to hate, better to seek them among the con artists who have turned Rwandan-style hate speech into an industry profitable enough to rival the porn business.
Go read the whole thing, it won't take but five minutes. And there's video!