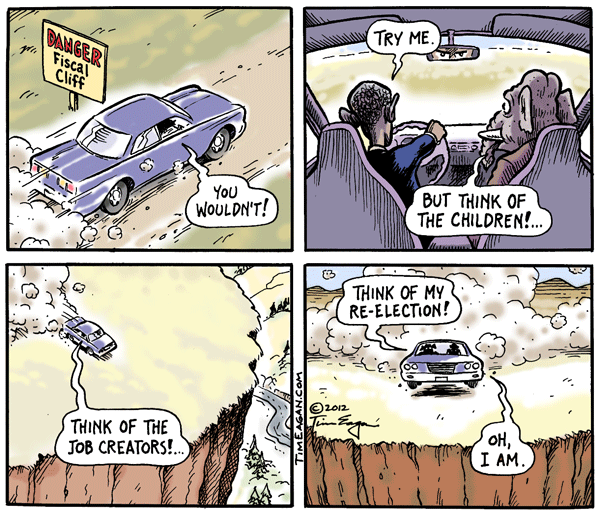 (Tim Egan via GoComics.com)
__
Jonathan Chait at NYMag, explaining how "Tax Haters Figure Out They're Screwed":
The main task before President Obama now is to yank the debate over taxes and spending back from the far right, where it has lingered for the last two years, and toward the center. He has to demonstrate that the dynamic that held in 2011, when Republicans could wrench concessions out of him by holding the economy hostage, has been replaced by a new one in which the Republicans' gun is aimed at themselves.

So far it's working. One indication of his success comes from the slow sense of dread enveloping the Wall Street Journal editorial page….

Compare the Journal's current supplicatory tone with the overbearing confidence it has previously displayed. When House Republicans in 2011 really started to play chicken by demanding massive spending cuts or else the debt ceiling would get it, the Journal cheered them on. Later that summer, when Obama offered Boehner a deal with just $800 billion in higher revenue, along with lower tax rates, the Journal urged Boehner to turn it down.

But the revenue Obama asked for in that deal was not just a trade for the spending cuts he offered up. It was also an insurance policy for the GOP. The Bush tax cuts were scheduled to expire at the end of the next year, and if Obama won reelection, he would have an awful lot of leverage over the Republicans when that happened. Republicans could have made a small deposit to insure against that risk, but making that deal would have meant accepting slightly higher taxes, and also would (as Paul Ryan and other conservatives calculated) help Obama win reelection by defusing the deficit as an issue and handing him a bipartisan accomplishment. So they decided not to buy that insurance policy…
Looks like one more instance where the Repubs were absolutely convinced that they had Karl Rove's 'math', that the odds we'd be discussing President-Elect Romney were so high they didn't have to worry about a ride home if they put the car keys in the poker pot.
Dave Weigel points out another happy circumstance for those of us who are not Zombie-Eyed Granny Starvers:
It's Elizabeth Warren's Senate, Not Bob Kerrey's
Molly Ball's fun story about the leftward shift in the Senate reminds us of a fact forgotten five minutes into election night. Bob Kerrey, the two-term Nebraska senator, lost his comeback bid. While Ohio's Sherrod Brown was promising to hike taxes on the rich and save entitlements from the "grand bargain" guillotine, Kerrey was being endorsed by Bowles-Simpson. Literally, those two guys endorsed him….

In the long term, a Senate with no Liebermans or Kerreys is a Senate with fewer Democratic media stars who want to cut entitlements. In the short term, doesn't this embolden the liberals who want to scrap a grand bargain? The theory of the bargain is that neither party really suffers from it. The angry voter will hate the Republicans for selling him out on taxes and the Democrats for selling him out on Medicare. But entitlements are more popular than tax cuts. There was a reason why dozens of Republican candidates promised to spend another $718 billion on Medicare if they won.
Take a left, Mr. President — hard left!