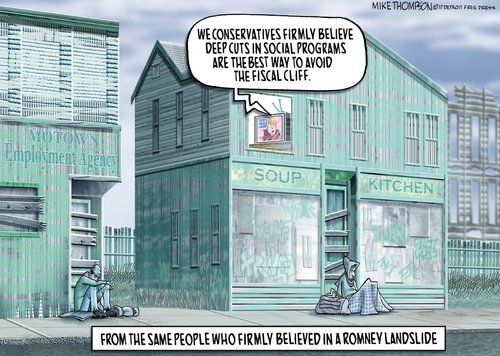 (Mike Thompson via GoComics.com)
__
For those of us who delight in the arts of verbal knifework, even a November Monday can't be so bad when it heralds the blogging return of Mr. Charles P. Pierce:
… Over on ABC, old pal Martha Raddatz was sitting in for The Clinton Guy Horrified By Blowjobs. Among other people, she hosted New York Congressman Peter Cuchulainn Pearse McDonagh Clarke Kathleen ni Houlihan King, the famous former apologist for gunmen, to talk about terrorism. As it happens, Peter is only the second-most ridiculous congresscritter named King, Steve having been re-elected in Iowa despite the best efforts of the brown people who hide under his bed. P. King was quick to jump into the Benghazicuzzi because he hates any and all terrorists who don't know all the words to "The Wind that Shakes the Barley." He believes that Susan Rice had an obligation to the Republic to liven up The Sunday Shows by revealing classified information. Coming Up Next: The Daniel Ellsberg Hour!…
And again:
… Now, ordinarily, the second banana on a campaign so thoroughly inept as the Romney campaign would find himself exiled to the remainder table of history about 11 seconds after the polls closed, especially a second banana like Ryan, who brought nothing to the ticket whatsoever, and could deliver neither his home state or his hometown. In terms of their relative contributions to the overall effort of their respective campaigns, compared to Paul Ryan, Sarah Palin was Boss Tweed. But, as Kilgore shrewdly points out, Ryan maintains a constituency within the Beltway that seems rather impervious to the demonstrable fact that, as a national politician, Paul Ryan makes a terrific doorstop…

But here's the thing. Assuming that actual journalism breaks out at any point within the Beltway, it's going to take much more heavy lifting to recreate Ryan's image than it took to build it in the first place. In the campaign that just ended, Paul Ryan was exposed as a thoroughgoing lightweight, both as a politician and as a policy thinker. As a national candidate, to borrow an old phrase from Bob Knight, Ryan couldn't lead a whore to bed. (Judging by the appearance schedule that the Romney people handed Ryan late in the campaign, Ryan seemed to be running against Alexander Hamilton Stephens for vice-president of the Confederate States Of America.) And, removed from the warm cocoon of Beltway wisdom in which they were nurtured, his vaunted "ideas" fell all to pieces around him as the country repeatedly demonstrated that it didn't believe a word of what he was saying and had no intention of buying what he was selling. By the time Joe Biden got finished laughing at him, Ryan looked like someone groping madly for the bottom of the pool with the tips of his toes…
***********
Apart from enjoying a soothing paddle in the vitriol vat, what's on the agenda for the evening?